People are using the internet more and more, and marketers are no exception. When you can interact with your consumers in a meaningful way, the power of marketing increases. Online marketing approaches have several advantages over traditional advertising. We now understand that the strength of marketing is found in the digital realm. If you want to truly communicate with your consumers, you must engage them online. Luckily for marketers, there are many digital marketing tools and marketing platforms designed to help you accomplish just that.
Digital marketing can be an excellent investment for small businesses. It's more cost-effective than traditional marketing, and you can improve your online presence all on your own. If you use it correctly, it can make your business very competitive in today's marketplace. This post will discuss the best digital marketing PowerPoint templates for your business, startups, and other organizations. These PowerPoint design templates will unquestionably raise the standard of your presentation and help you impress your audience with awesome digital marketing designs.
Let us have a look at a couple of top digital marketing presentation templates.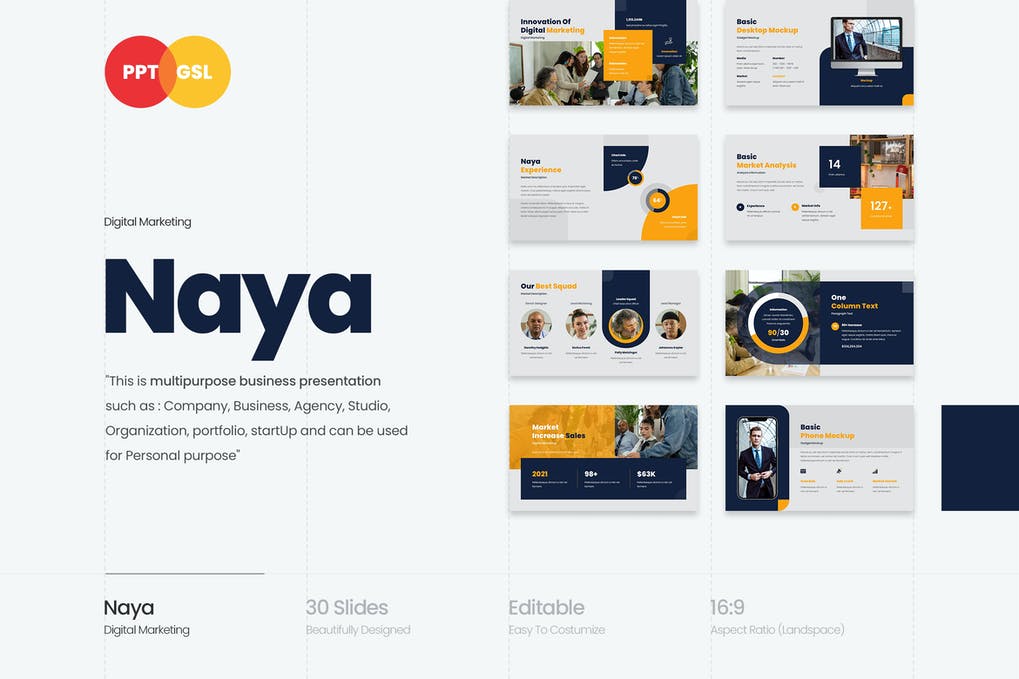 "Naya" digital marketing PPT is a substantial presentation template; using this presentation, you can visualize your agency in an attractive way. This template can be used for many purposes, like for companies, startups, organizations, portfolios, etc. The most significant advantage of this PPT presentation is that there is no need to help with additional software.
Features:
It consists of 30 editable pages.
Available at a 16:9 aspect ratio.
Almost all graphical items are editable.
Available in PowerPoint and Google Slides.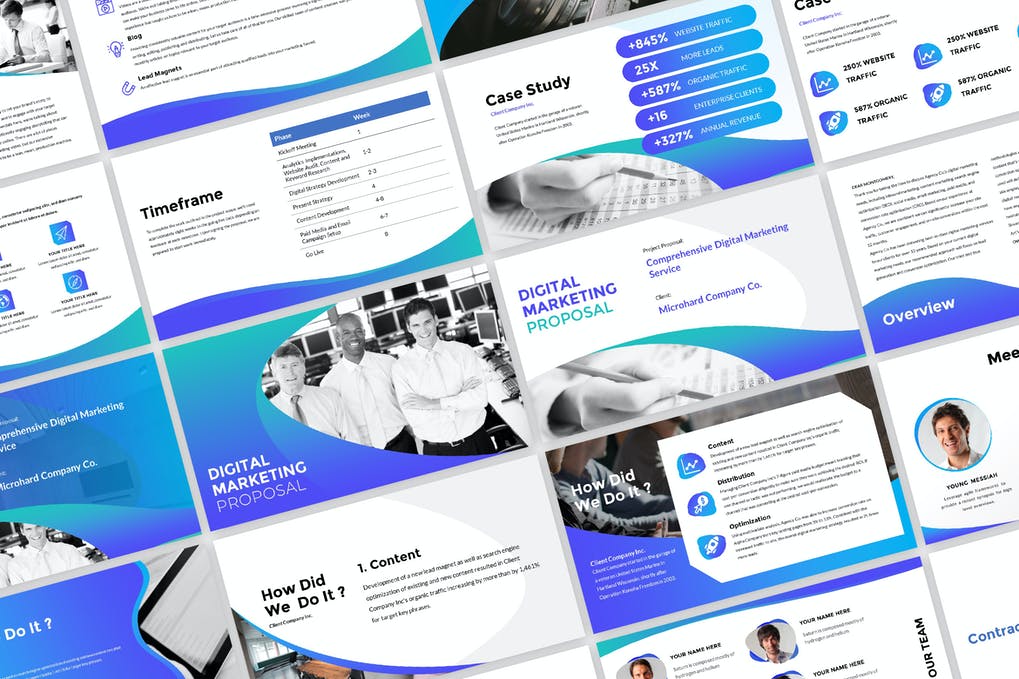 Digital marketing promotes brands and their products using digital tactics to reach out to the target audience. This PPT design template is a multipurpose design slide with a modern and clean appearance. This is an excellent choice for your business. Use this template design to impress your audience.
Features:
There are 20 distinct presentation slides.
16:9 HD presentation slides.
Attractive graphical objects.
It has a modern look and is easy to use.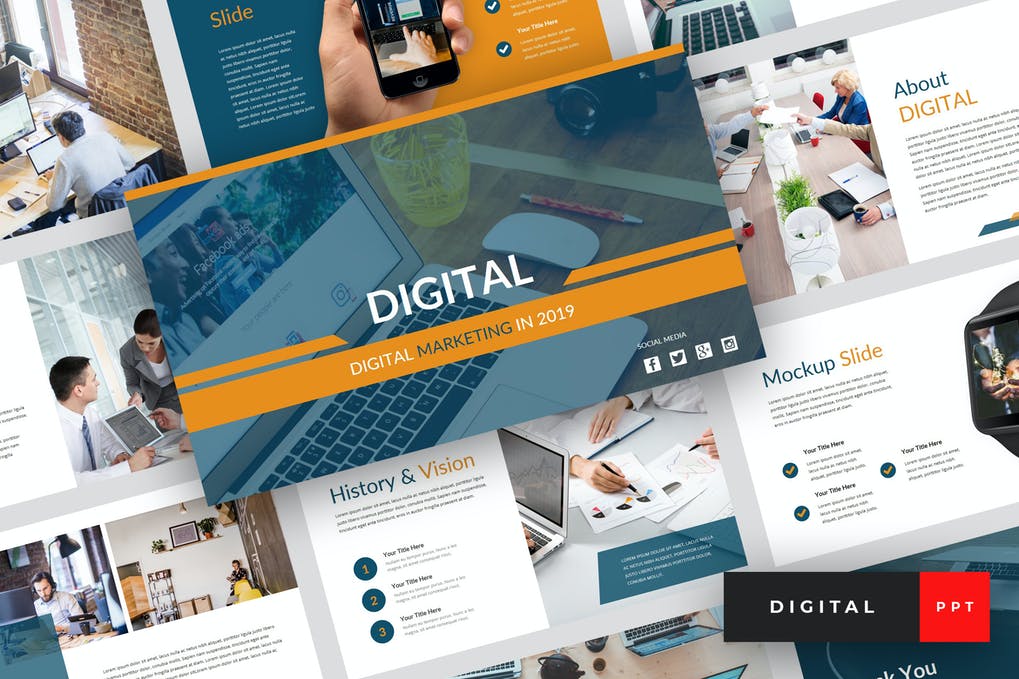 Digital marketing aims to promote and sell products or services using digital methods such as search engines, social media, email, and display advertisements. It has become a viable business option as more and more potential consumers conduct searches over the internet.
This digital marketing PowerPoint presentation may assist you in reaching your digital marketing goals. It has a lot of functions and is simple to use. There are a few more reasons why this template is appealing. It also has a clean and modern appearance that distinguishes it from other template designs.
Features:
There are 36 slides in this template pack.
All graphics can be changed.
You can find a collection of free web fonts.
All of the design slides are based on the Master Slides.
Those slides have a widescreen ratio.
A picture placeholder is available.
You can modify slides with drag and drop.
PPTX and documentation files are comprised.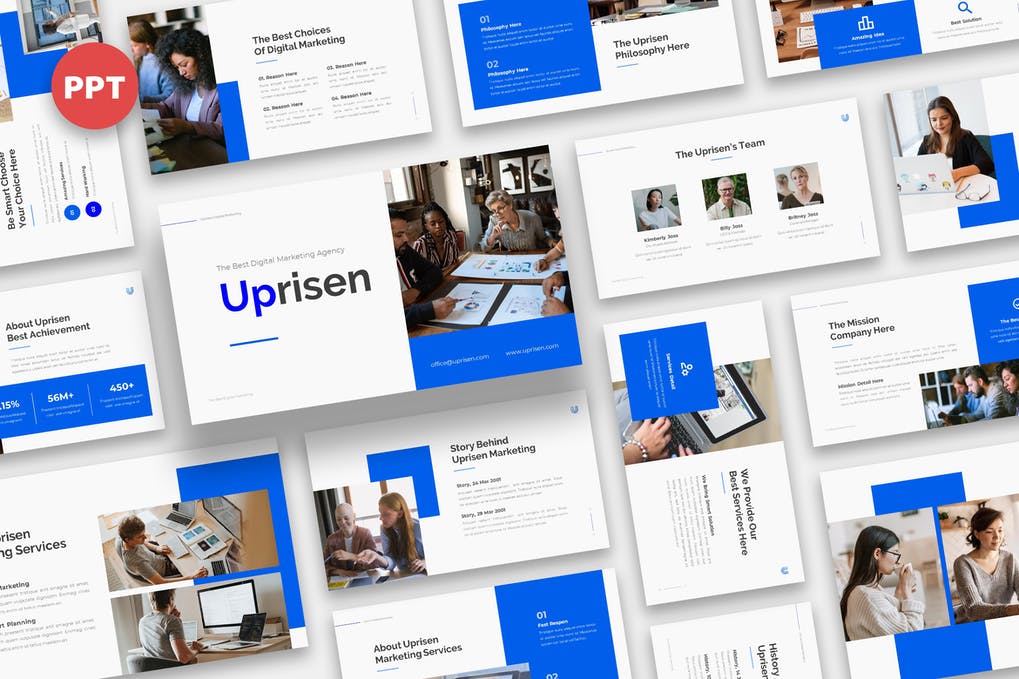 A professional PowerPoint presentation design is something that every business and digital marketing agency wants. It is the foundation of an effective digital marketing campaign to get your message across and look professional. This is the reason why there are plenty of digital marketing PowerPoint templates.
This is a responsive template design that can be utilized in various areas, such as creative agencies, corporate, businesses, startups, and so on. It's simple to modify, and all of the graphical elements can be changed. It is entirely based on Master Slides. Use this template to create an outstanding digital marketing campaign.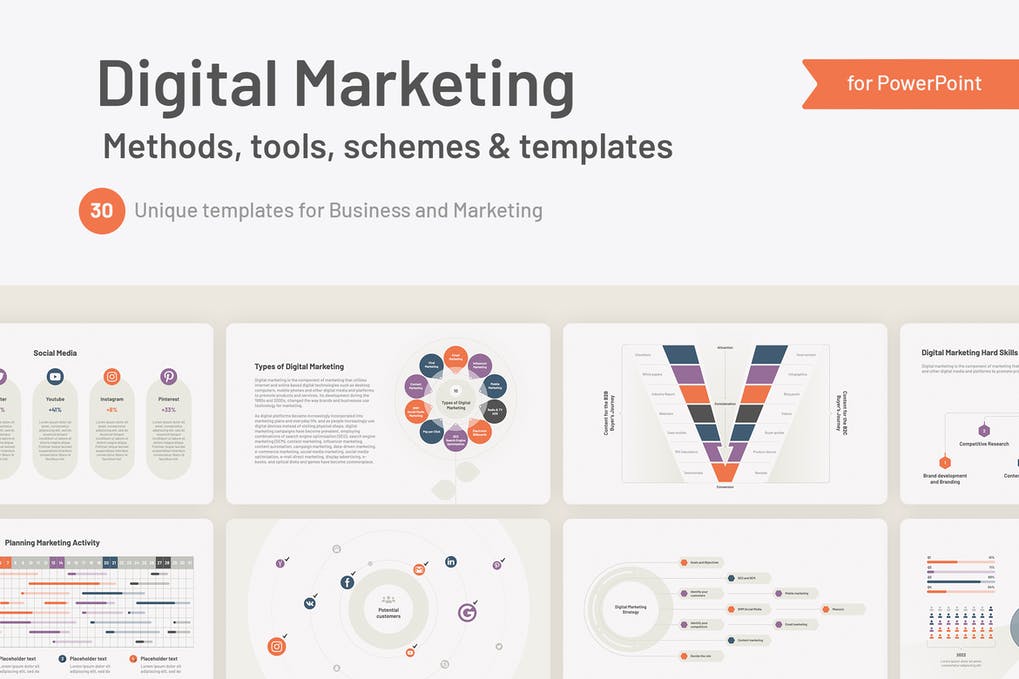 This is one of the most appropriate PowerPoint templates for internet marketing. This digital marketing template contains a combination of images, graphs, and many more graphical objects. For those who have to deliver presentations on digital marketing, this is one of the most helpful PowerPoint templates. It's also great for internet marketers who spend a lot of time developing a solid digital marketing campaign.
There are 30 unique slides with several features. If you want to create a digital marketing strategy, then this is the best design for you. This template pack includes digital marketing strategy, marketing segmentation, development of social media strategy, and so on. Get this design and save more time.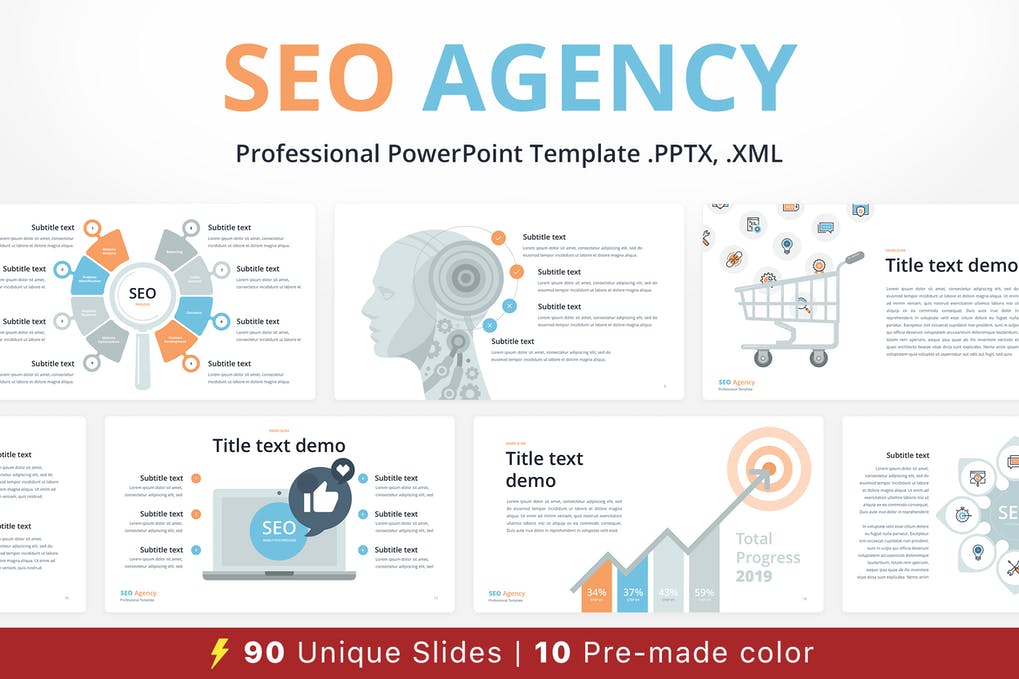 SEO is a marketing strategy to increase the number of visitors on a website by obtaining the highest possible ranking on the search results page of a search engine. This professional SEO PowerPoint template is ideal for formulating an SEO strategy. The following PowerPoint template slide with easy-to-follow layouts and designs will make it easy for you to display your information engagingly. Take a look at the essential aspects of this slide design.
Features:
90+ modern design slides.
This template comes with ten pre-made colors.
16:9 HD resolution.
Available in full animation and without animation.
It is effortless to edit.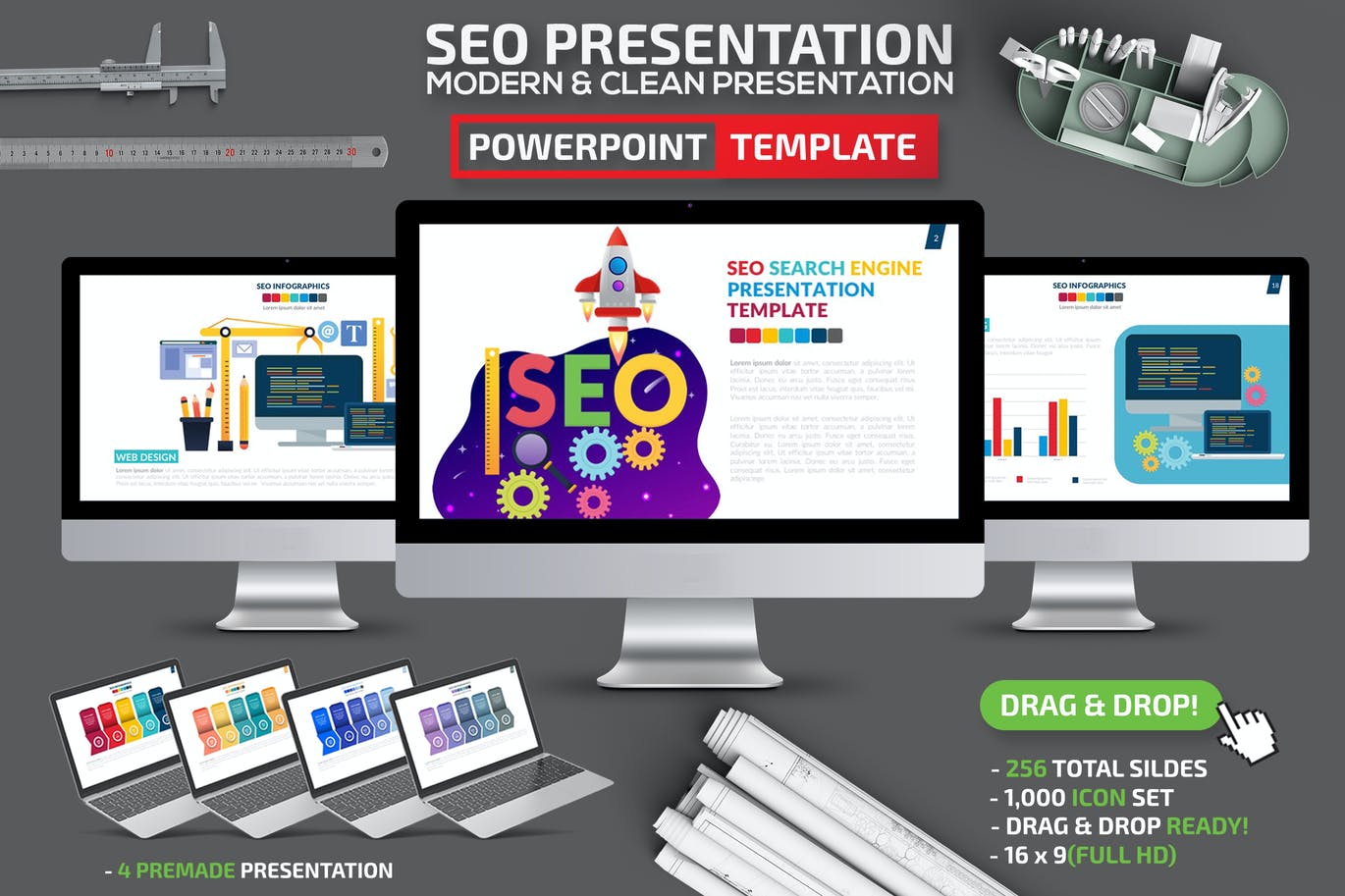 This is a modern SEO infographic PowerPoint for those who are planning to do SEO. This SEO strategy PowerPoint template is a modern design with an incredibly inspiring appearance. It has some beautiful typefaces, an appealing infographic, and a fantastic color scheme. If you want to create an SEO presentation with a modern, appealing design, this is the template for you. Let's have a look at the features in more detail.
Features:
There are 256 slides in this presentation.
It includes an appealing icon set.
All slides support animations.
Free font collection is available.
16:9 full HD slides.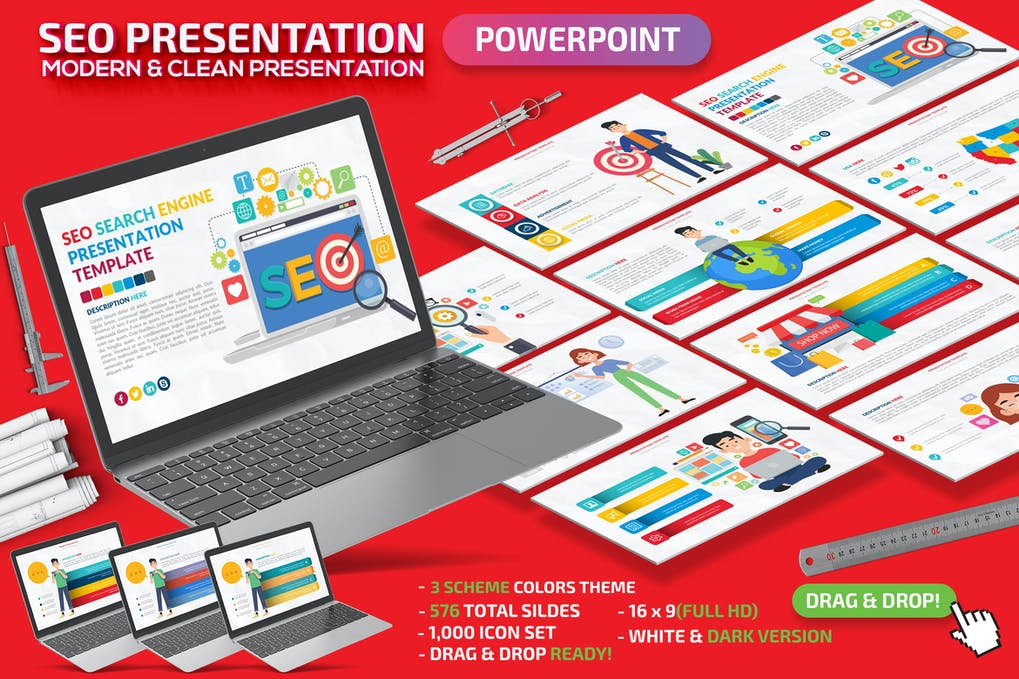 Are you looking to create an SEO plan or audit for your client? Then this is the ideal template for you. It contains attractive slides on SEO and related steps. All slides are entirely editable. All you must do is replace the slide text with your own. This slide deck has been designed to help you SEO managers, strategists, etc. to create a phenomenal presentation. Select this design to amaze your clients and coworkers.
Features:
There are a total of 576 appealing slides.
1000 sets of icons.
All the slides are fully animated.
16:9 high definition slides.
It's really easy to edit.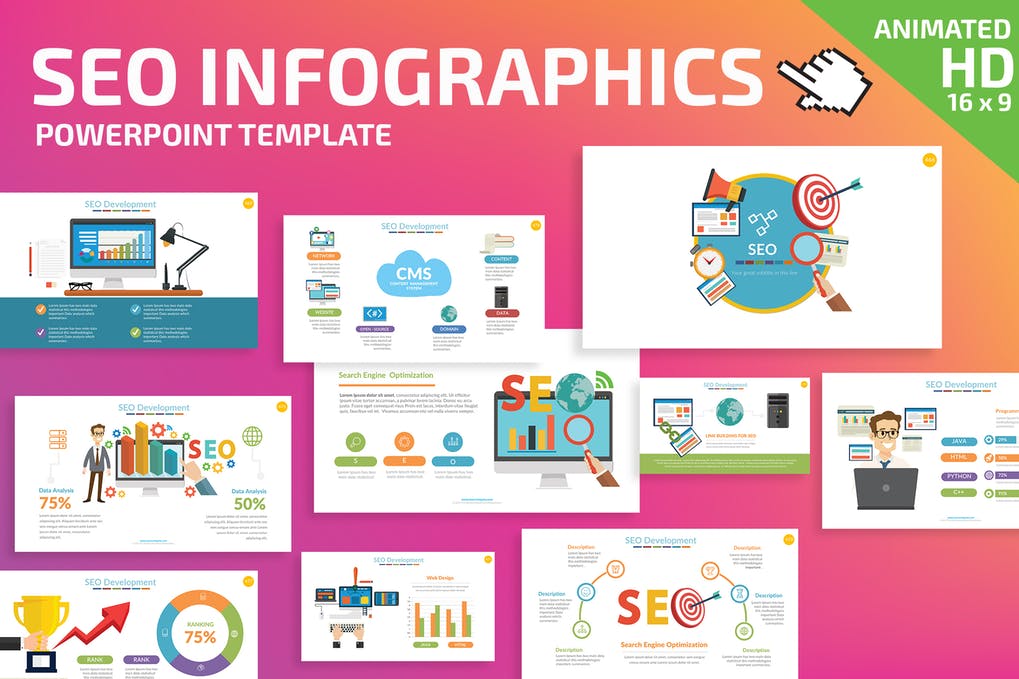 Do you need an attractive and clean PowerPoint presentation to promote your business? This is the best choice for you! This template is extremely simple to customize based on your content ideas. So you may modify the text and color to match your specific or corporate requirements. This template comes with attractive infographics and an icon set. These templates are designed with a creative layout and solid concepts. You can use these slides for meetings, conferences, events, and business presentations.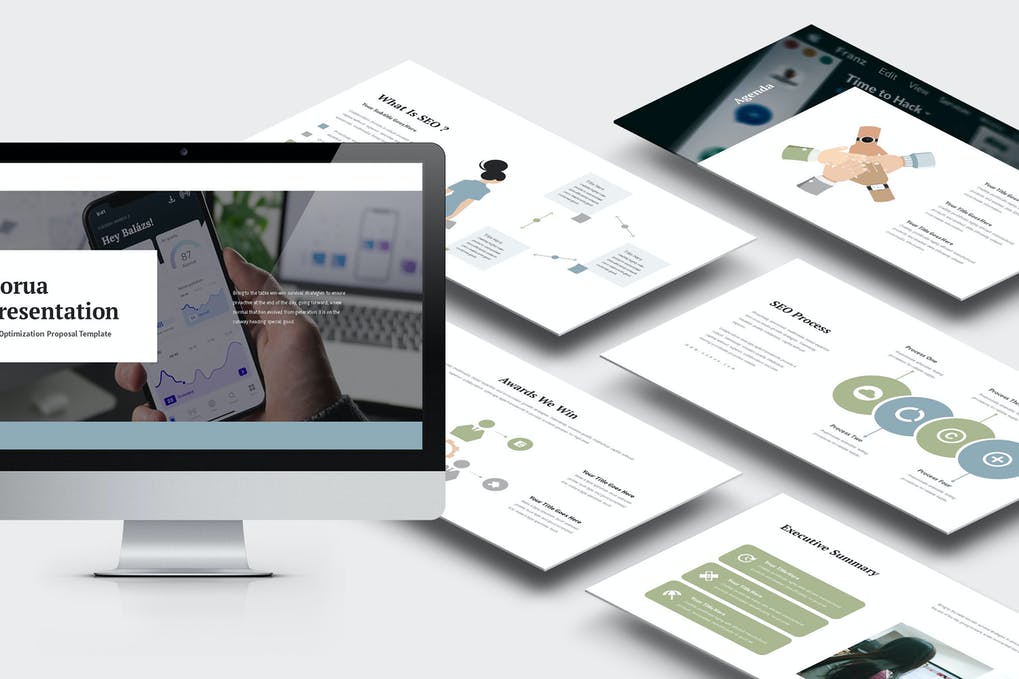 Creating a presentation from the bottom up is hard. This is why PowerPoint templates are so widely used. The "Horua" SEO presentation template is simple and straightforward to use, and it can be customized based on your needs. The template was prepared by professional designers.
This trendy PPT template has an abundance of color options, so it will match your business perfectly. This template is ideal for conveying your knowledge of SEO in a visually appealing way. Use this design to create a stunning presentation in no time.
Features:
This PowerPoint presentation template bundle has 60 slides.
There are two distinct color themes to select from.
All the slides are in a widescreen format.
There's no need to use other applications to modify.
Just drag and drop is enough to alter the slides.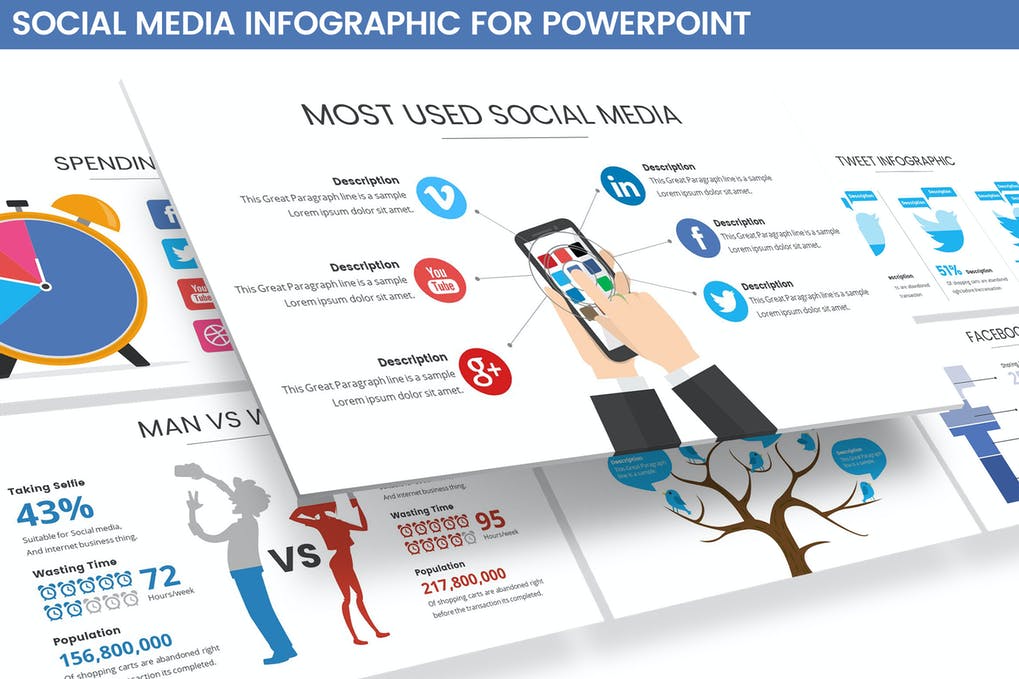 Social media is a type of internet marketing that uses social networks to get traffic. If you're searching for a unique PowerPoint template for social media, this one is perfect. The template is done in a stylish color scheme with several graphical objects. Use this template to show the current status of your social media marketing, share results and plans with company managers, and more.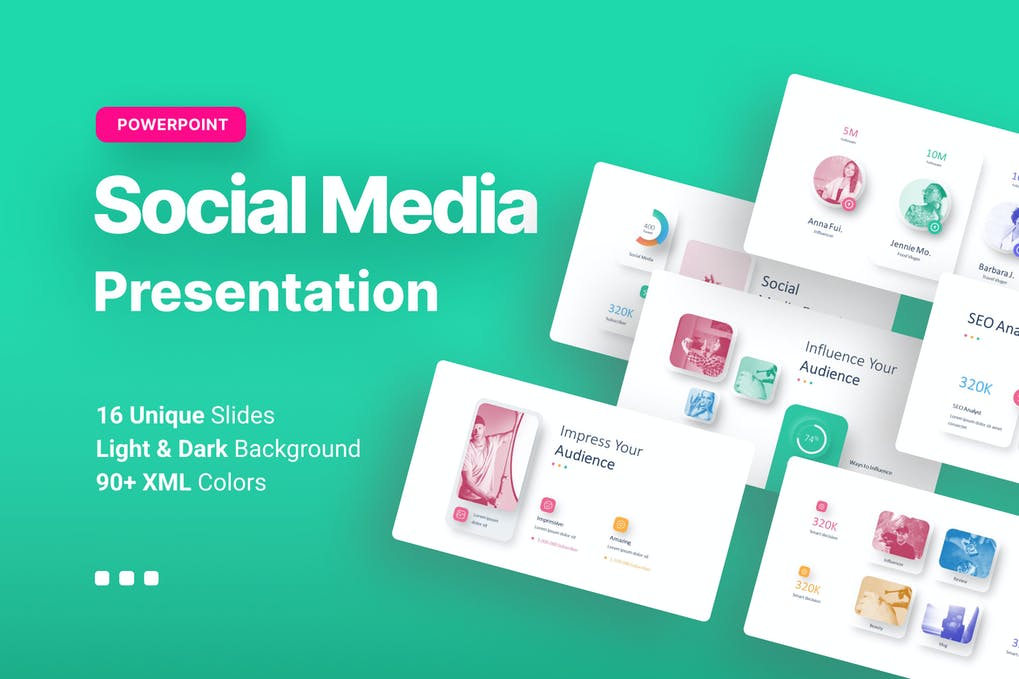 This social media slide design would make an excellent presentation. You don't need a lot of editing abilities. The slides are easily modified based on your specific content. This template has impressive transitions and animations. This template's color combination is fantastic; it's very clean and professional. Get it; you will definitely like it.
Features:
There are 16 distinct slides accessible.
90+ XML files contained.
It is available with a dark and light background color option.
The slides are all in widescreen format.
Handcrafted infographics with a beautiful design.
Slides can be fully customized.
Free set of icon packs.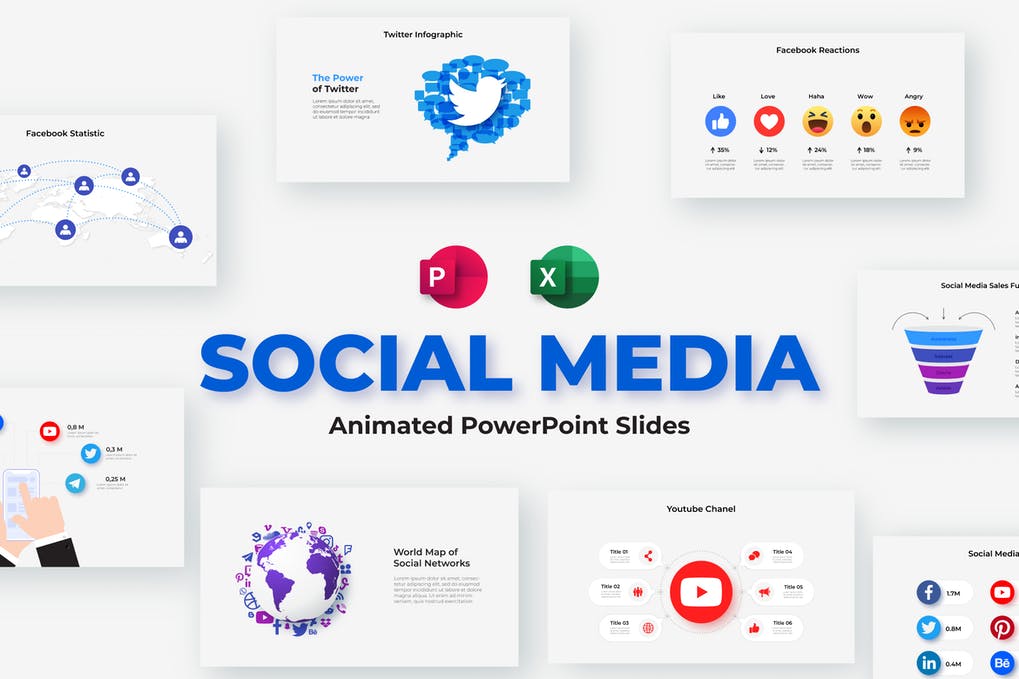 Do you need a modern, animated social media marketing presentation template? Take a look at this PowerPoint slide. It is wonderfully designed and will help you deliver your message to your audience. This presentation template is very easy to use, which can save you a lot of time. Many interesting slides with plenty of functions are included. This template is also very cost-efficient, which makes it an ideal solution for you.
Features:
Fifty unique, animated slides.
50 XML color themes.
Those slides are available in the dark version as well.
Perfectly compatible with Microsoft PowerPoint.
All of the visual items are in vector forms.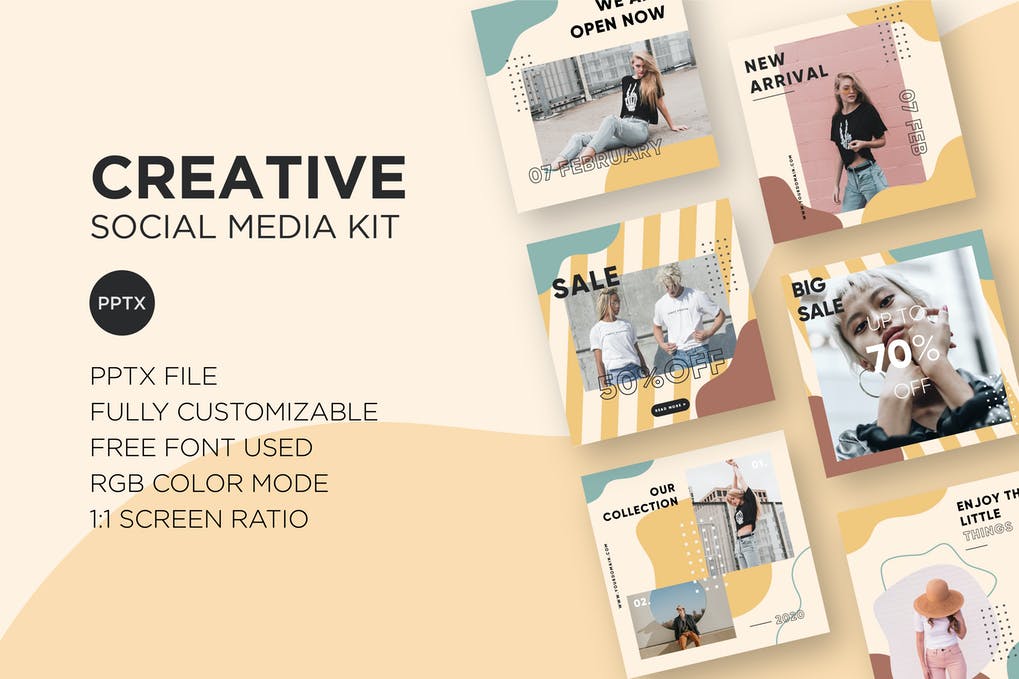 Professionals created this innovative social media PPT slide, which is utilized in various commercial sectors, including fashion, corporate, agency, company, portfolio, and more. The design of this presentation was created using interesting visual elements, which are both appealing and compelling. Use this graphic design to amaze your audience.
Are you still wasting your time creating presentation slides? Or still, sending out boring presentations to your clients? Do you want to make presentations that your clients look forward to seeing? This social media marketing template will finally allow you to create quality presentations in a very short time.
With this contemporary slide, you'll be able to deliver your ideas effectively and have a long-term influence on your audience. This template layout will allow you to create an incredible presentation in just minutes. All you need to do is simply download this design, open it and add your content.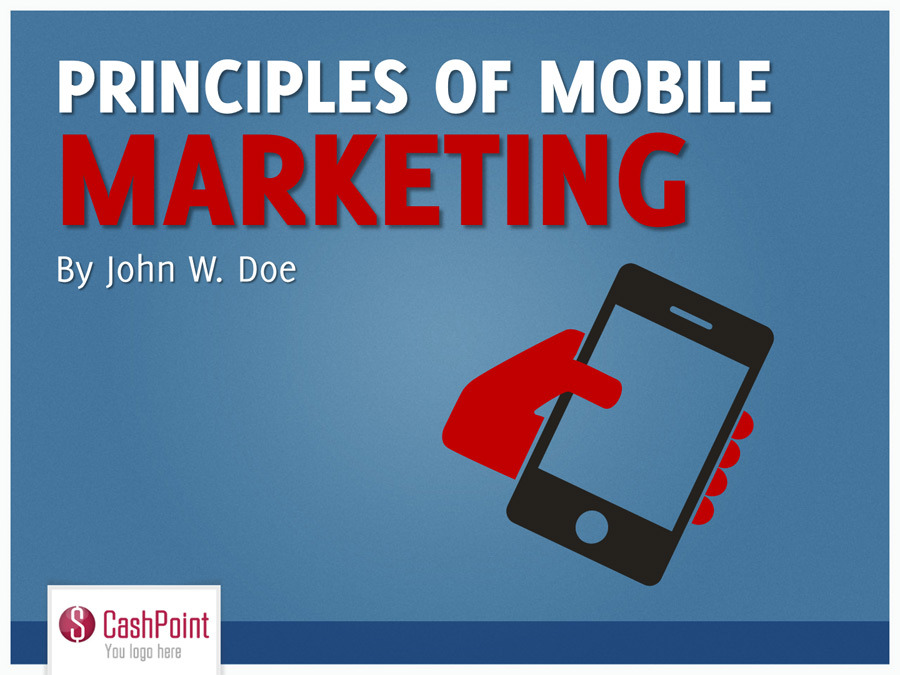 Mobile marketing is a form of digital marketing that uses mobile devices such as cell phones and smartphones. This method of marketing utilizes mobile apps, SMS, and other forms of instant messaging technology. It has become the preferred choice for an increasing number of businesses who need to improve their marketing efforts – including small businesses.
This PowerPoint template is made for mobile marketing. You may quickly arrange the marketing stages with this PPT presentation design. This presentation PPT has several appealing graphical elements, icons, and background designs. Use this PowerPoint slide to engage your audience.
This digital marketing and social media presentation template pack have attractive slides. These expert slide designs will save you time while promoting your business online. This beautiful template has modern slides with color schemes and layout options that you may personalize. It is ideal for any business. Try out this presentation to improve your business.
Look at the best collection of business presentation templates that are available and use it to build an actionable business plan.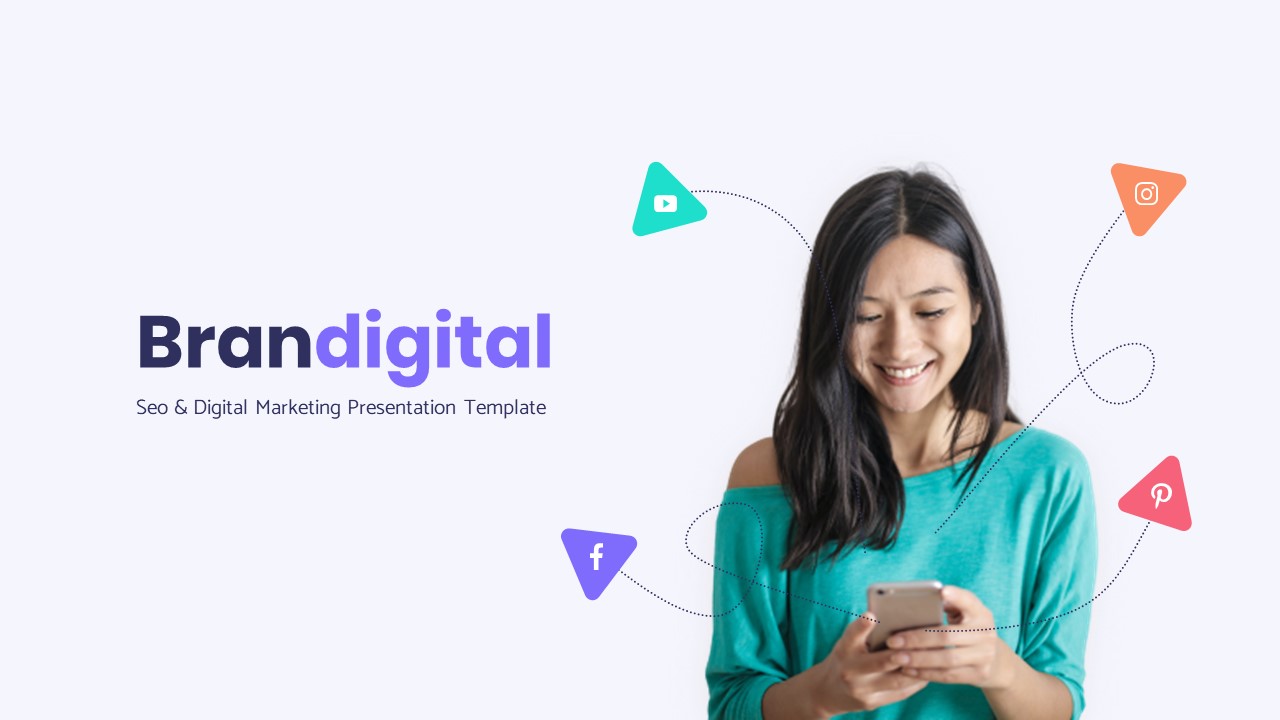 This is a perfect template for SEO and digital marketing agencies with a truly professional look. This digital marketing presentation template provides a powerful presence. During creation, the designers utilized a variety of distinctive design patterns. This corporate layout design offers an opportunity for you to create a striking presentation. Download this presentation; this is the most effective way to create an online marketing presentation with minimal effort.
Before you create marketing plans, see the marketing PowerPoint presentation templates. Many sales and marketing professionals use marketing PPT templates when planning campaigns.
Features:
There are a total of 38 unique slides in this presentation.
All the graphics are fully editable.
Free web fonts are available.
The designers were more concerned with typography and usability.
The slides in this presentation are based on the Master Slides.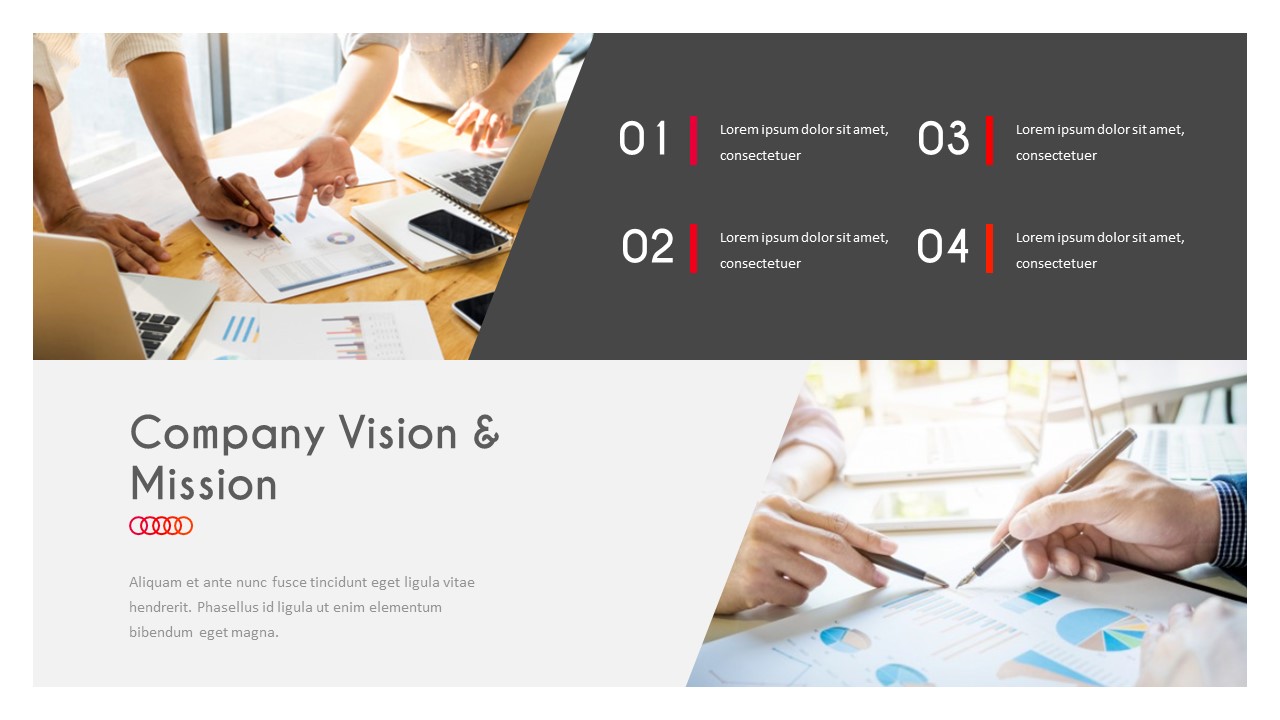 This is one of the most frequently suggested digital marketing PPT for an agency. It has a modern style and can be used for explaining, pitching, or reviewing strategies with your clients. This template has all of the essential elements of a digital strategy in one place. Each component can be quickly modified to meet your personal requirements. This is a really cool template that allows you to present a digital marketing strategy in an exciting way.
Features:
It has 80 or more unique slides and a total of 1600+ slides.
All of the PPT slides are in a widescreen aspect ratio.
Two versions exist light and dark.
You may tailor the animations to your specific needs.
A wide range of graphical elements is available.
This is the right one for you if you're searching for the latest presentation of a digital marketing plan. This PPT is based on modern, unique slides and has the simplest layouts, which give a professional look to your slides. You can use this template for your upcoming presentation on digital marketing.
Features:
Color schemes that are visually appealing.
110+ modernistic slides are available.
Device mockups are added.
It's really simple to personalize.
24/7 support services.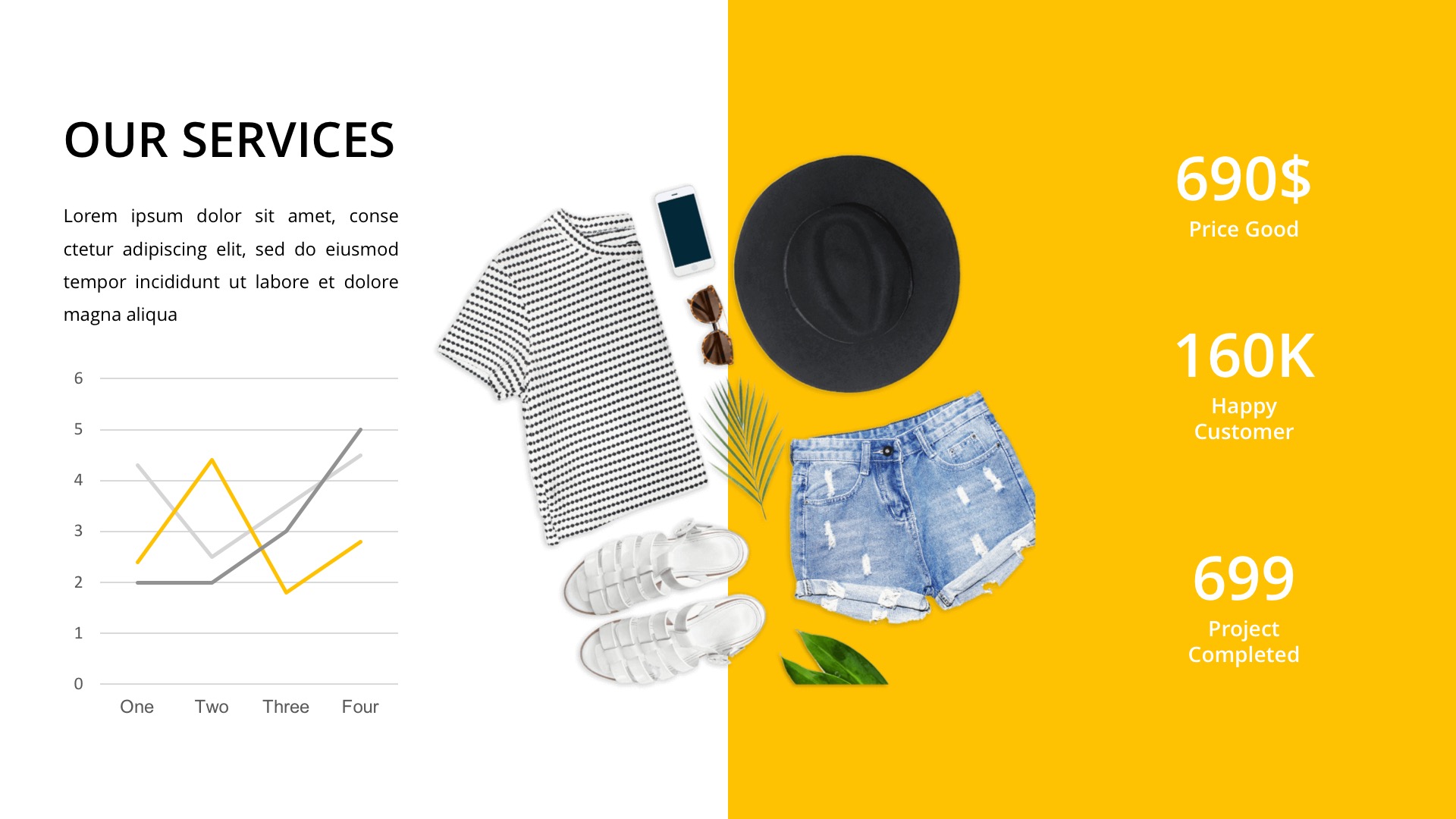 This is a PPT presentation template with sections for your goals, keywords, content, analytics, SEO analysis, and ROI. This is an elegant PPT with lots of attractive colors. It's suitable for digital marketing consultants to use as a presentation. You can modify the PPT however you want and add your own data. Take a look at this slide design to see how this beautiful PPT design will impress your audience.
These presentation slides are designed for digital marketing projects, reports, content plans, and digital agency portfolios. It can be used by marketing managers, digital marketing consultants, lead generation companies, online marketers, and anyone who is looking for a professional digital marketing template to showcase their work. This premium PowerPoint presentation template is intended to present your company's data in a creative way.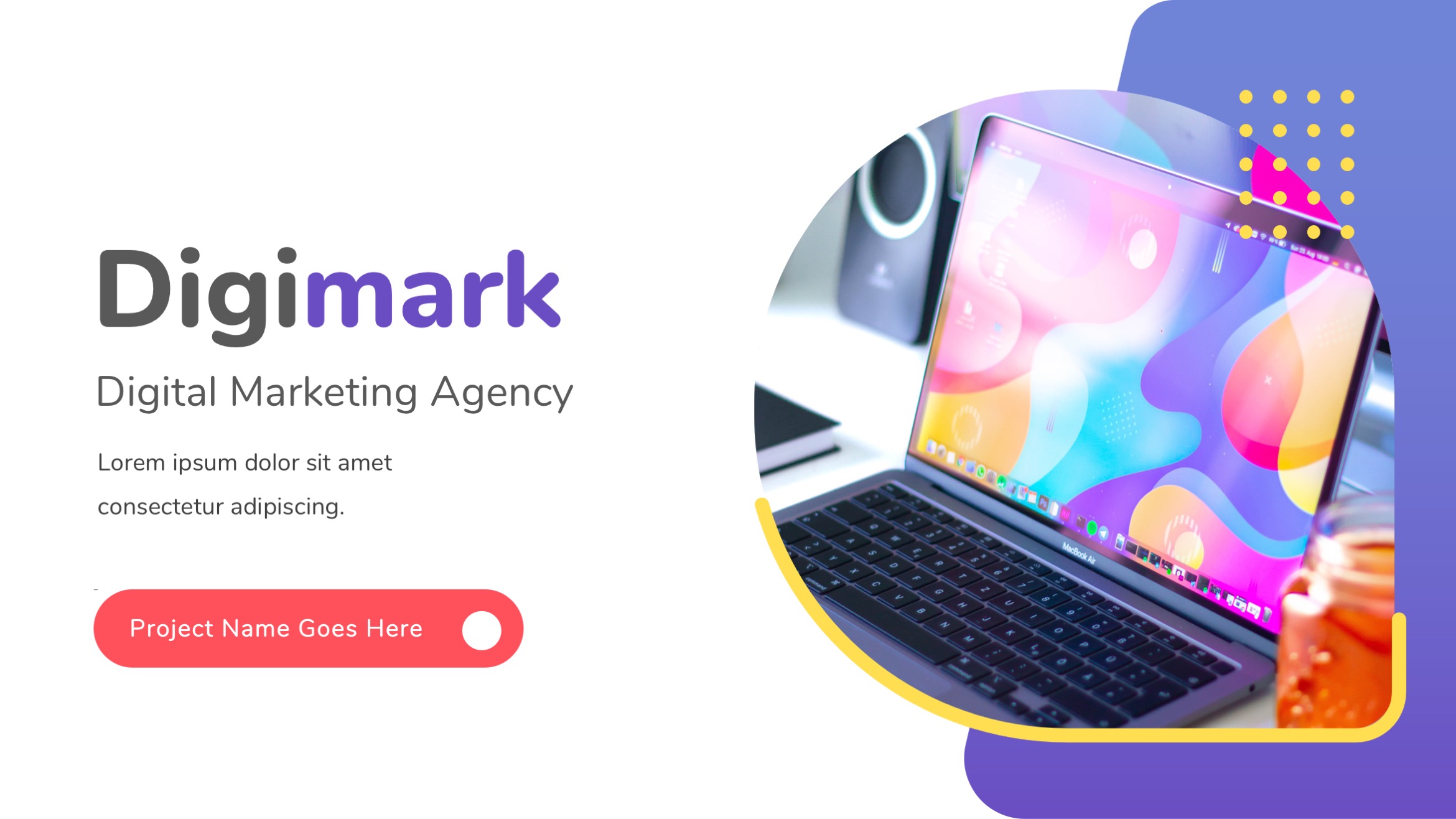 You can find a lot of digital marketing presentations online to utilize. If you want to create an excellent online marketing presentation, this template will help you achieve that. It is the most comprehensive set of digital marketing PowerPoint layouts on the market. If you want to make a good impression, this is the template for you. It's designed to explain what digital marketing is all about in an attractive and professional way.
Conclusion
Small businesses, as well as large enterprises, must have an online presence in order to stay competitive. It's also essential to have an attractive presentation with digital marketing-related content. With the help of these digital marketing PowerPoint slides, you don't have to worry about creating your own presentation. You can download any resource and use it in your next presentation. I really look up to you for reading this article. I hope you found this article useful, and it gave you some more insight into digital marketing templates.