Marketing is the approach of promoting, selling, and distributing a product or service. It also includes identifying target markets for products to increase profitability by having different segments within an industry that have specific marketing offers tailored to their needs. The PPT presentation can be beneficial for marketing, as it can help the presenter make their message clear with minimal effort. It also helps them remember information on the fly. It provides the presenter with an outline and will help them stay on track. It also helps them come up with ideas that they might not have otherwise had. Finally, it saves time as you can focus more on the content than re-creating everything from scratch.
Are you looking for a way to show your marketing plan or ideas?
PowerPoint is a great tool that will allow you to get your point across. There are many templates available online, but we have narrowed it down and found 25+ best marketing PowerPoint presentation templates. These slides can be used in all situations, no matter what kind of business you run. They'll help make your presentation more exciting and engaging for both employees and clients alike.
Get a look at the listed professional marketing templates. These templates will undoubtedly be helpful for your business.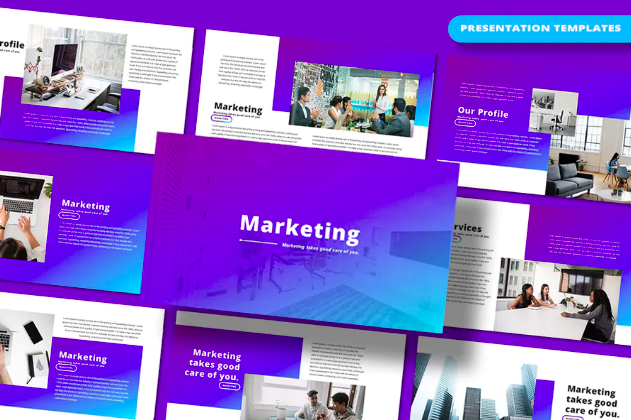 This marketing PowerPoint template is ideal for those who want to present their business. It comprises modern slides with decent designs, attractive colors, and simply adjustable graphical elements as well. The design will help you reach your goals very quickly and pretty simple to convey those goals to the viewers.
Features:
25 Modern, creative, unique slide designs.
Drag and drop Images.
Image placeholder.
Easy to change colors, fully editable graphical elements.
Size : 16:9 Ratio.
Free font collection.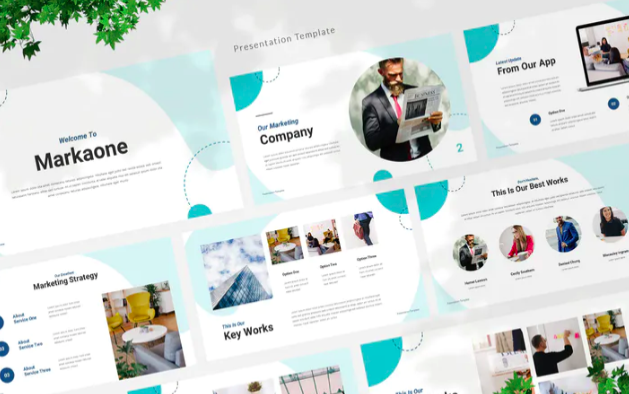 This presentation template can be used for numerous business purposes such as internet marketing, content analysis, and portfolio creation. It includes minimal design layouts which grab attention from audiences with ease. Use this presentation template design if you want to compose a presentation without any hassle.
Features:
Total 30 slides included.
All the graphics are customizable.
Free fonts embedded.
On the basis of Master Slides.
Pretty easy to edit; just drag and drop is enough.
The screen ratio is 16:9.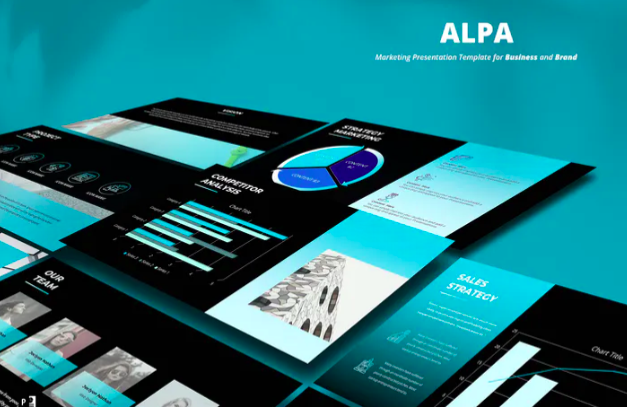 "Alpa" PowerPoint template is a complete multipurpose business. It has been wholly crafted for marketing professionals and business people. It is an excellent marketing pitch PowerPoint template, which can be used in any type of business presentation or campaign to showcase your ideas and strategies for success with perfection.
If you're a business professional and need to present your marketing strategies to the team, these attractive PowerPoint slides will let your ideas reach new levels of productivity.
Features:
This template package has unique 30 slides.
Format 1920×1080 Full HD.
PPTX and PPT file formats.
Free fonts are available.
Appealing animation slides.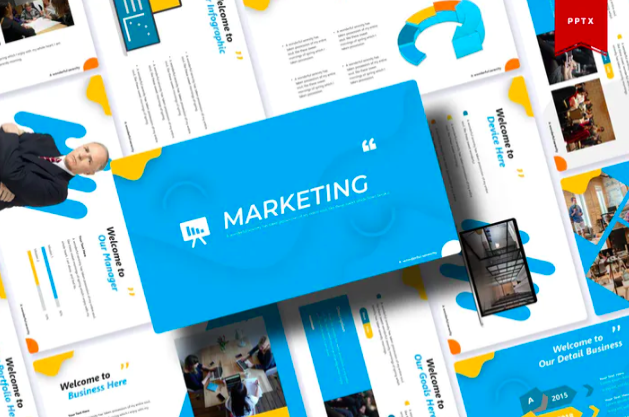 This is a professional marketing PPT presentation, absolutely available for all types of business and personal needs. All the objects of this template are fully customizable, and no need to depend on other software. All slides come with an animated version; hence you can present your strategy confidently to the audience.
Features:
Total 150+ slides with premade colors.
Section break slides.
Handcrafted infographics.
Based on Master Slides.
Pixel perfect illustrations.
All graphical components are fully editable.
Gallery and portfolio slide included.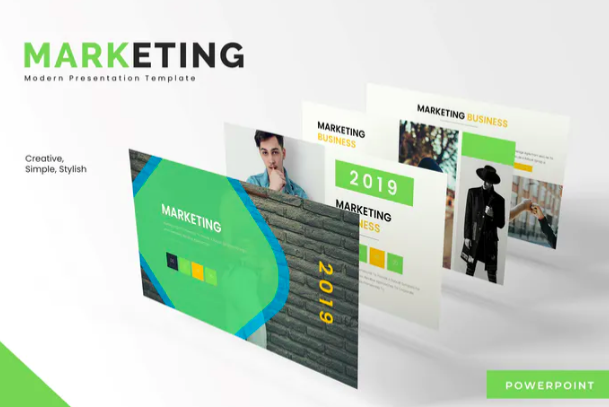 You're in the marketing field but are you tired of always having to use boring templates? Check out this multipurpose PPT design, a template that can be used for various business purposes! From planning your goals and achieving them with modern presentation slides. The following Multipurpose PPT design will make crisp and clear presentations on each topic.
Features:
Impressive and attractive slides, including lots of colors.
Section break slides.
Appealing infographics.
Based on Master Slides.
All objects are editable.
The drag and drop feature of this template is quick and easy to use.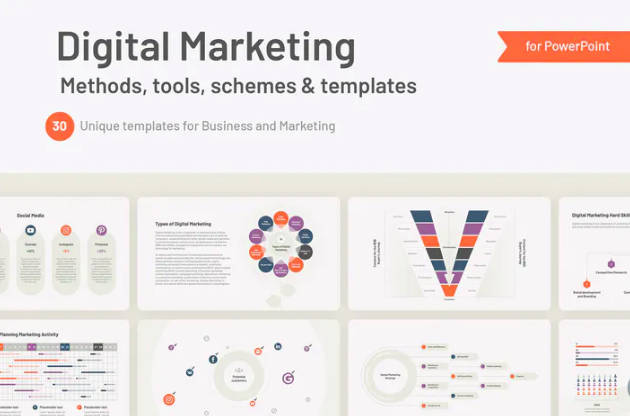 In today's world, digital marketing is a significant player in almost any industry because it has so many strategies to increase sales. This template package comprises attractive slides that are perfect for your marketing plan. Some examples include types of digital marketing, marketing channels, marketing segmentation, customer journey, and so on.
If you are looking for a comprehensive PPT template to make your digital marketing plan easier, then this professional PPT design will be helpful. With the use of different colors, icons, and fonts, it is easy to see how an organized presentation can help keep all aspects on track.
Features:
Attractive 30 unique slides (Total 4300 slides).
Easy to change size and colors, no need for extra software to edit.
10 Premade colors.
Free fonts.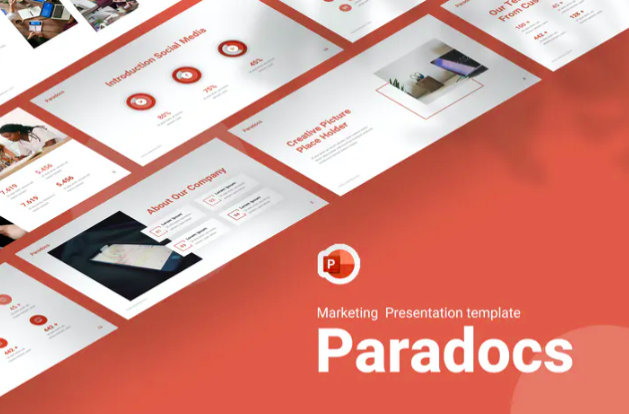 When they say "more engaging," "Paradocs" really means it. "Paradocs" template design combines various aspects that make the company profile more engaging. Every slide is valuable and functional, with no superfluous shapes or infographics to distract from your presentation's content. "Paradocs" PPT templates are ideal for both small businesses and large corporations who want their own customized presentations. Download this marketing PowerPoint template for more productivity.
Features:
Unique presentations with more than 30 different slides.
A variety of slides is available in a range of colors.
Creative and professional themes.
Widescreen (16:9) aspect ratio.
Handcrafted infographics are available.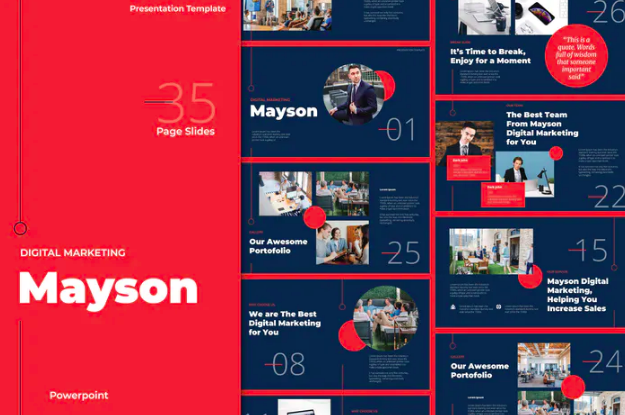 Take a look at this stylish online marketing PPT template to plan for your internet marketing strategies. This template is designed for all of the digital marketers out there. This contemporary and modern online marketing template will help you plan for your next great strategy. With a sleek design, it can be edited to fit any project with ease. These templates are an excellent way to save time and get straight into the action.
Features:
Thirty-five slides, all designed to help you create the perfect PowerPoint presentation.
16:9 slide aspect ratio.
There are plenty of beautiful photo galleries available.
Easy to edit charts.
Good looking timelines.
Free collection of fonts.
Based on Master Slides.
If you're a marketing manager or consultant and are looking to create an effective strategy for your business, this template pack is perfect. With a vast collection of font styles and designs, it's easy to make sure that any project will turn out brilliantly.
This modern business marketing PowerPoint template includes well-crafted presentation decks with fascinating slides and many other graphical elements as well. The template pack would be ideal for creative agencies, business plans, corporate, but could also work wonders on presentations about finance because they can incorporate charts seamlessly into their impressive layouts.
Features:
30+ impressive slides.
16:9 aspect ratio.
Made with Slidemaster.
Very easy to customize and fully editable.
Free font collection.
Device mock-up.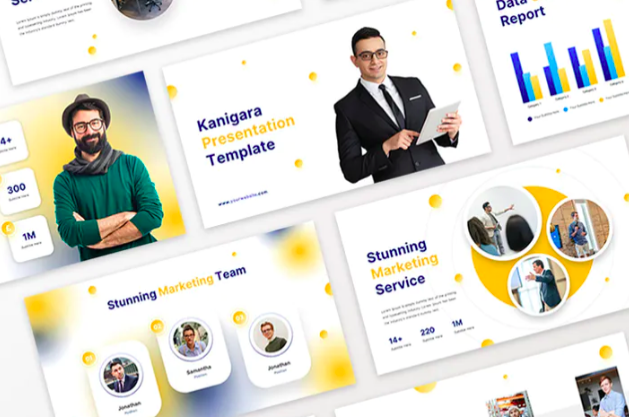 Do you want to get your marketing goals across in the most interesting way possible? Try using a creative PowerPoint template instead of presenting it as an old-fashioned slideshow. This template consists of plenty of fonts and designs that will keep viewers engaged for hours on end. This modern marketing template works excellent when used for various purposes such as Annual reports, Management consulting, Digital marketing, just to name a few!
Features:
Total unique 40 slides.
Very easy to edit.
Based on Master Slides.
All graphics are resizable and editable.
16:9 widescreen ratio.
Editable infographic.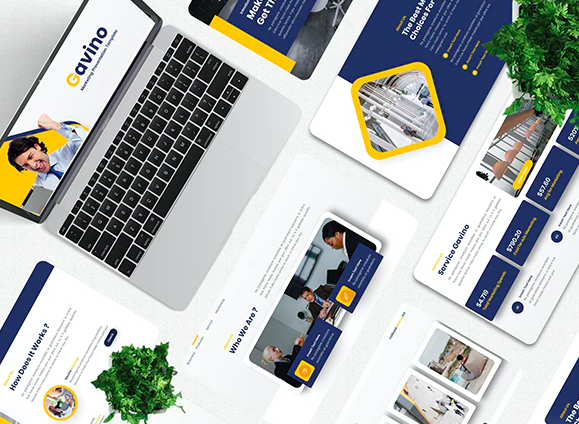 This professional marketing PowerPoint template has a lot of features to help create any type of marketing presentation.
The "Gavino" presentation is one of the best examples of a marketing PowerPoint template. This professional PPT design includes attractive fonts, illustrations, charts, statistics, and diagrams for creating any type of marketing presentation. This modern marketing PowerPoint template can mainly be used in business and marketing agencies, portfolios, corporate, etc.
Features:
All of the graphical elements are resizable.
Presentation based on Master Slides.
The picture placeholder is available.
This PPT template is easy to edit and personalize with your own colors.
Unique mock-up devices.
Vector-based icons.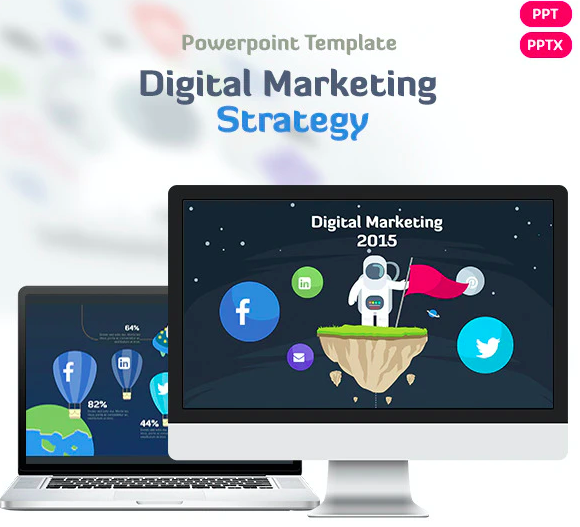 Staying competitive in today's digital marketing world, it is necessary for you to have an effective strategy. It is essential to be able to convey your digital marketing strategy and plans in an engaging way. This PPT template pack will help you do just that. With this template, your ideas will turn into a compelling presentation. This product communicates with the audience clearly and includes many slides for an overview of topics such as landing page, web analytics, mobile advertising, and pay per click which are provided in multiple color themes to make it easier for your presentation's design.
Features:
Fully editable PowerPoint template design to help marketers present their plans in an easy and professional manner.
16:9 HD screen layouts.
Visually appealing slide transition animation.
40+ Unique, attractive slides for each theme.
Custom-made infographics.
Timeline-style slides.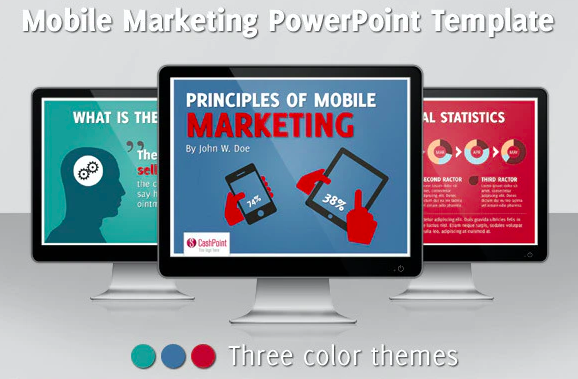 Mobile marketing is the future of advertising, with more and more people using their smartphones to browse websites or download apps. So it makes sense to make your business visible there, too. Impress potential customers with these creative, modern mobile design templates so that you can plan out how best to market products or ideas successfully.
Amaze your team with this fully customizable mobile marketing PPT presentation template.
Features:
3 PPTX files contained.
1 Adobe Photoshop layered files added.
The template includes eight color backgrounds.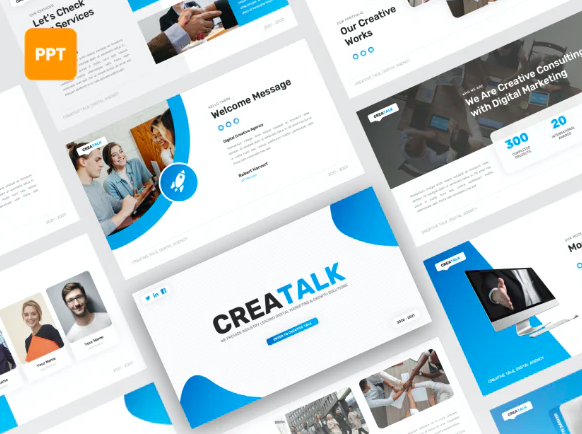 "Creatalk" PowerPoint slide is one of the suitable digital marketing PPT template available online. The colors and patterns in this online marketing PowerPoint template will put your message into high gear. These slides are perfect for advertisement, businesses, agency, corporate, creative, startup, etc. Take advantage of the latest marketing trends by using this PowerPoint template to create a dynamic presentation for your next meeting.
Features:
Total 36 slides packed with this template.
All the graphical objects are editable.
Complete free fonts.
Based on Master Slides.
Picture placeholder is available.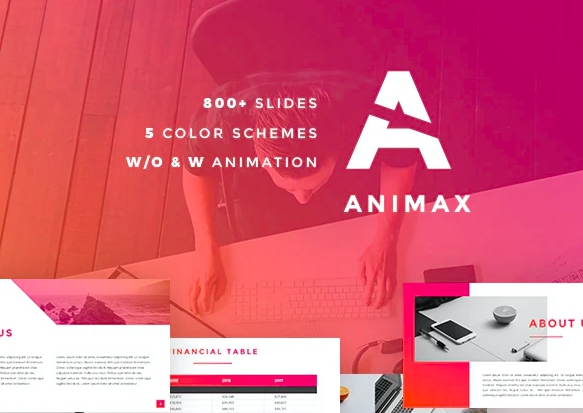 If you need a finance and marketing PowerPoint presentation, here is the perfect template. The first important thing is, this PPT design is how easy it makes creating graphs and charts in PowerPoint. This template is the perfect kit for any finance or marketing team looking to make their presentations stand out. It offers a clean, professional design with plenty of editable graphical components that will simplify your presentation process. Consequently, you can focus on your time to prepare slides.
Regardless if you have an idea for a new startup or already own an established company, these templates will help propel your success.
Features:
Total 800+ template slides.
80+ creative, unique slides.
Five different color schemes.
Very easy to edit charts through excel.
Modern layouts based on Master Slides.
PPT and PPTX files embedded.
All graphics are straightforward to edit.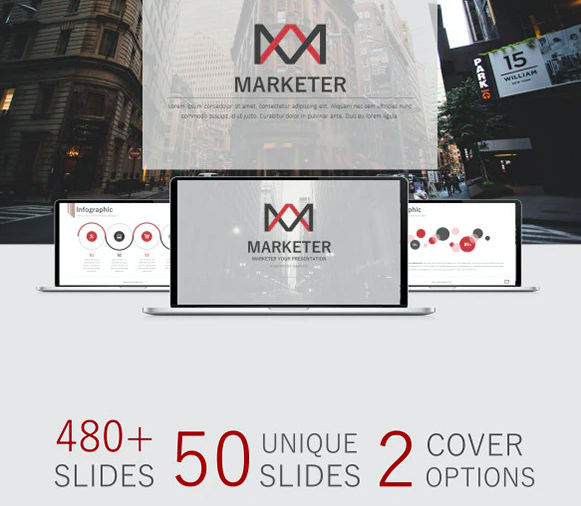 Generally, business and marketing presentations are terribly boring things, but this customizable marketing PowerPoint template will spice things up with a vibrant of colors to suit any occasion. This marketing presentation includes a variety of graphical objects that make it easy to edit with ease, no matter what your needs are. This minimal, fully editable marketing PowerPoint slide is the perfect one for business, personal use, and corporate who want their presentations to be clean and minimalist.
Features:
Fully animated 10 PPTX files.
Massive collection of slides, total 480+ slides.
Clean 50 unique slides.
This template pack contains 4 color schemes.
Fully handmade infographics.
Section breaks.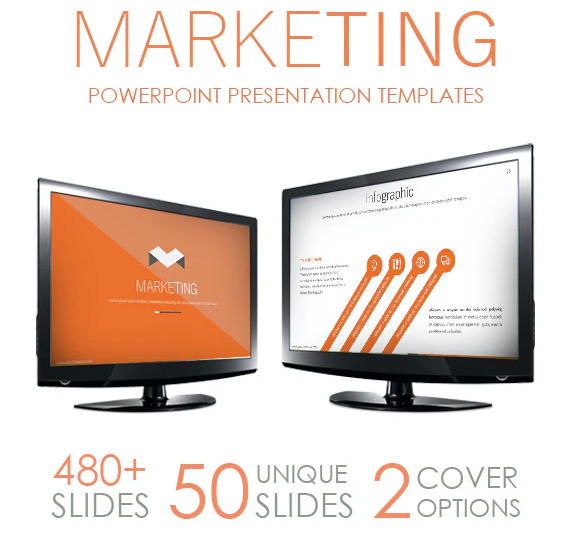 In order to make your marketing strategy presentable and easy for your colleagues to understand, this presentation slide will help you to present it in a creative manner. The presentation template includes 50 unique slides with a vast collection of pictures, charts, and other graphical objects. This will help you successfully communicate the details of your plans with your team.
A PowerPoint template for marketing strategies is great to have when you want to present your marketing plan in a professional and persuasive manner. Start preparing now with this professional marketing strategy presentation template.
Features:
Many layout options.
Fully animated, and a total of 480+ slides are available.
The price table, numeric list are included.
Handmade infographics.
Ultimate color options.
Light and dark versions are available.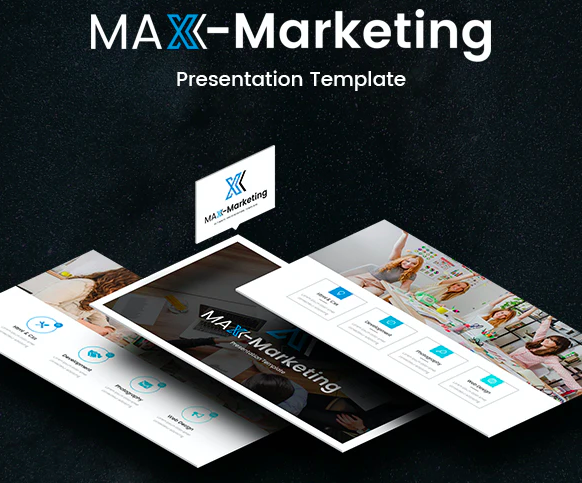 If you're looking for a premium PowerPoint marketing template, "Max" presentation design will help you to amaze your customers. This modern PowerPoint includes creative slides with different color themes, and all the elements are easy to edit. You can try out this impressive template today by purchasing it right now.
Features:
140 well-designed slides.
16:9 full HD slides.
Cool themes that are perfectly suitable for business.
Icons and vector shapes are editable.
Animated slides.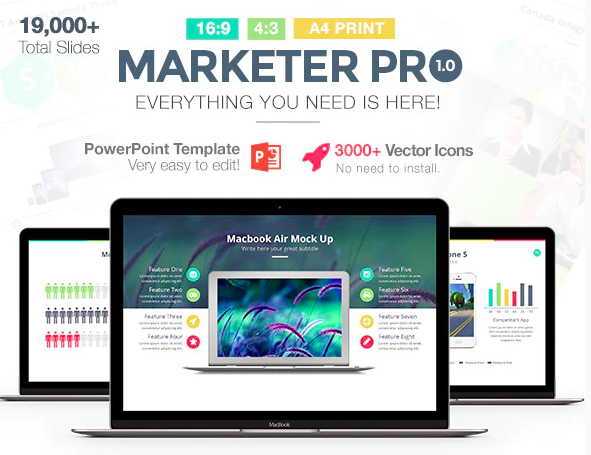 Check out this awesome PPT marketing plan template that includes everything you need to get on the right track with your marketing. This clean, modern marketing plan template with a vast collection of ready-to-use graphical elements like charts, tables, maps, vector icons, and infographics. These all the available slides are based on Master Slides, and many more exciting features have also been included to make your presentation engaging for viewers.
Features:
The product includes mock-ups.
There are 19,000 slides in this PowerPoint deck.
Animated PowerPoint slides.
Documentation and a quick guide are available.
These 3000+ vector icons are perfect for use in PowerPoint presentations.
Each object is animated with its own custom animation.
Professional illustrations.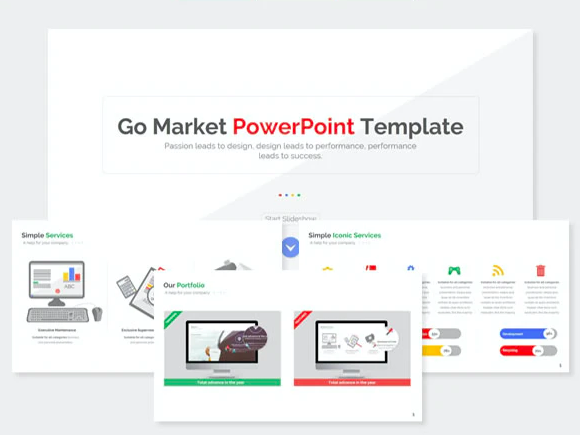 This marketing plan PPT template is so flexible that it can be used in many different businesses and will work for any type of presentation. It's easy to customize the templates with colors you like or images; also, there are lots of other possibilities.
Presenting an entire marketing strategy to a business or marketing team can be challenging, but this PowerPoint slide design manages to make each slide engaging and vibrant without being overwhelming.
Features:
A clean and professional PowerPoint presentation template.
Use these five color schemes to represent your business.
Total 250 PPT slides.
All the slides in this template are editable.
Influencer marketing is an innovative marketing technique that has become very popular in recent years. This influencer marketing PPT template will help you to present your strategy in a persuasive manner, and it's easy to edit too.
Presentation templates are a great way to organize your marketing activities. You can start preparing now with this impressive influencing marketing slide that includes many different features.
Features:
Modern, polished layout designs.
Trending font styles.
Matching charts, diagrams, tables, and more.
The template objects are easy to recolor.
Slide sizes with standard 4:3 and widescreen 16:9.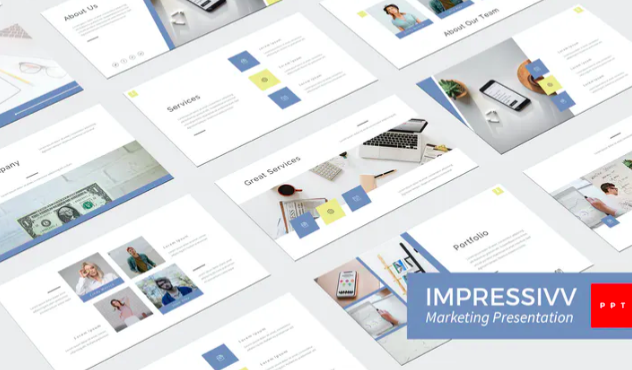 A successful presentation slide can make it easier to land new clients, investors, and customers. This PowerPoint marketing campaign template is a great design that will help you impress your audience. Also, It's easy to edit and includes quality images, charts, infographics, and more. This modern marketing PPT slide should help change your presentation structure.
Features:
A clean-looking PowerPoint slides with eye-catching modern layouts.
You can customize each page in the presentation using color schemes of your choice.
There are also various ready-to-use charts and many more.
There are 30+ slides available.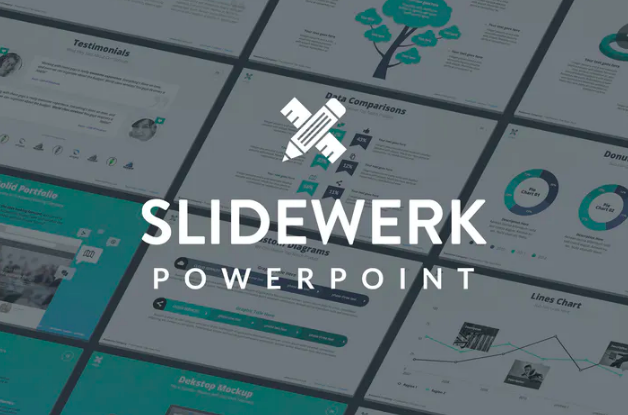 Need an effective, modern, and easily customizable presentation? "Slidewerk" is a marketing strategy PPT template that will help you get the job done. These PPT slides are designed to be professional-looking and engaging for your audience, with lots of graphical components included. It's easy to edit too.
Features:
3 Pre-made themes are available to represent your business.
Total 50+ unique PPT slides in this template that can be edited for any type of marketer or company.
Eye-catching layouts designs.
A user-friendly interface design.
Device mock-up templates are available.
Image placeholder contained.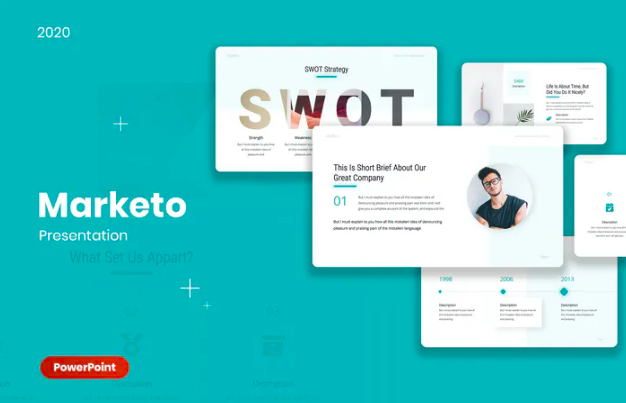 "Marketo" PowerPoint template is a adaptable presentation slide that can be used for presenting your marketing report, creative ideas, startups, business strategies, and many more.
If you want to be more productive along with expecting a better result, then this presentation template is the right one for you.
Features:
Thirty unique PPT slides that are all editable and customizable.
Also, there is a huge variety of graphical elements that will help you to create an eye-catching marketing campaign quickly.
User-friendly design with many features like charts, diagrams, tables, etc.
It's easy to recolor the template objects using different color schemes.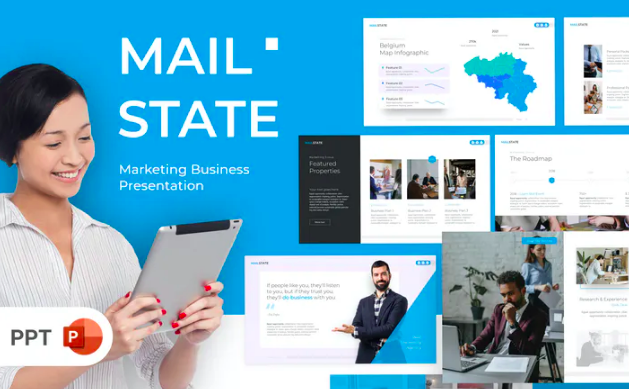 "Mailstate" marketing PowerPoint template is a creative way to make company profiles more engaging for your customers. The template combines various design aspects together for great functionality also no more unnecessary shapes and infographics.
Features:
Modern and attractive layout design.
Matching charts, diagrams, tables are all included in the template.
This PPT contains 30 pre-made slides with various marketing designs and styles.
Widescreen aspect ratio.
Attractive handmade infographics.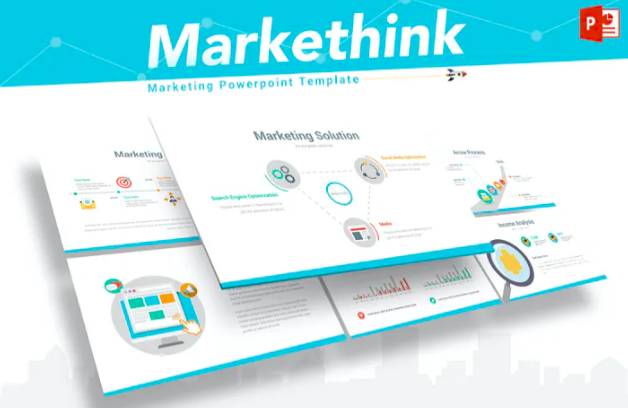 Download this premium PowerPoint template to promote your business. It's a great way for any kind of entrepreneur or startup. It includes various slides like marketing ideas, presentations, business strategies, and much more.
This PPT template has elegant marketing presentation slides. Also, the templates are customizable and adaptable for any kind of marketer or company. This marketing strategy PPT template is a great way to give your market research presentations more impact.
Features:
20 clean PPT slides.
Section break slides.
Based on Master Slides.
Resizable and editable graphical objects.
Conclusion:
Thank you for reading this blog post. I hope it's been helpful and that you found the perfect marketing PowerPoint templates to take your presentations to the next level.
This best-marketing PPT template provides a great starting point to help you create your own marketing slides. They can be used for various business purposes. There are many free marketing PowerPoint templates are available, but those PPT templates will have limited options also; you have to adjust with that designs. I am sure these marketing PPT presentation templates definitely play a major role. So what are you waiting for? Download these PowerPoint marketing templates now and get started on designing those eye-catching templates with ease.
Finding a perfect template is an important thing in almost every presentation; if you want to know "How to choose a perfect PowerPoint presentation?" maybe this article may help you.