Welcome to this article about minimalist Google Slides presentation templates.
The majority of people utilize complicated layouts in their presentations because they are unaware of the impact it has. Your presentation is more successful when you use clean and simple designs. Google Slides is a wonderful tool for making your presentation quickly. These minimalist Google Slides themes are utilized for a variety of objectives, including marketing, portfolio, corporate profile as well.
The minimal style design is very popular, and Google Slides is frequently employed to create them. So, if you want to make your presentation more appealing, go for a minimalist style. There are a lot of premium and free Google Slides templates are available online and all have their own unique features. If you are planning to utilize the best minimalist Google Slides presentation templates for your next presentation, then you have to check out this great collection of Google Slides themes.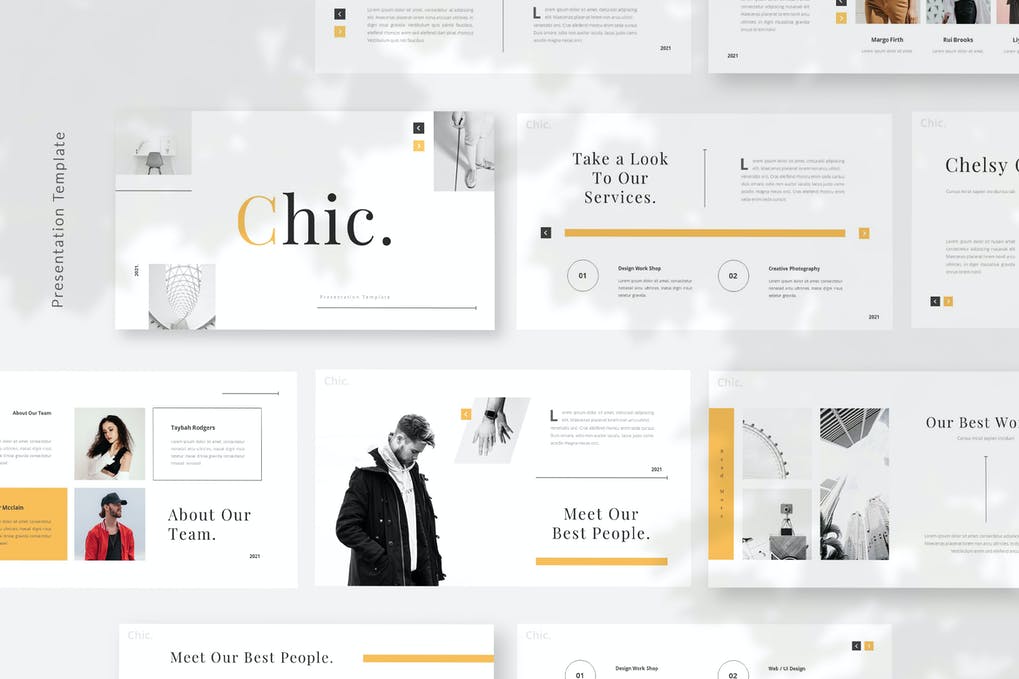 In most companies, there is a presentation that plays an essential role. It should be designed in an effective way. You may utilize the greatest Google Slides presentation templates if you are not competent enough to create your own slides. More people will connect you for business if you make your presentation interesting.
The "Chic" minimalist Google Slides presentation template is a perfect choice for several companies, and businesses. If your business is closely related to this theme, you may use it without hesitation. The "Chic" presentation style has a well-structured design that improves the organization's content. The slides look attractive and will grab the audience's attention. In this template package, you'll find three file types namely PowerPoint, Keynote, and Google Slides.
Features:
A total of 30+ slides.
3 file types are included (PowerPoint PPTX, Keynote KEY, and Google Slides).
All the slides are on the basis of the Master Slides.
Free web fonts are available.
Fully editable shapes.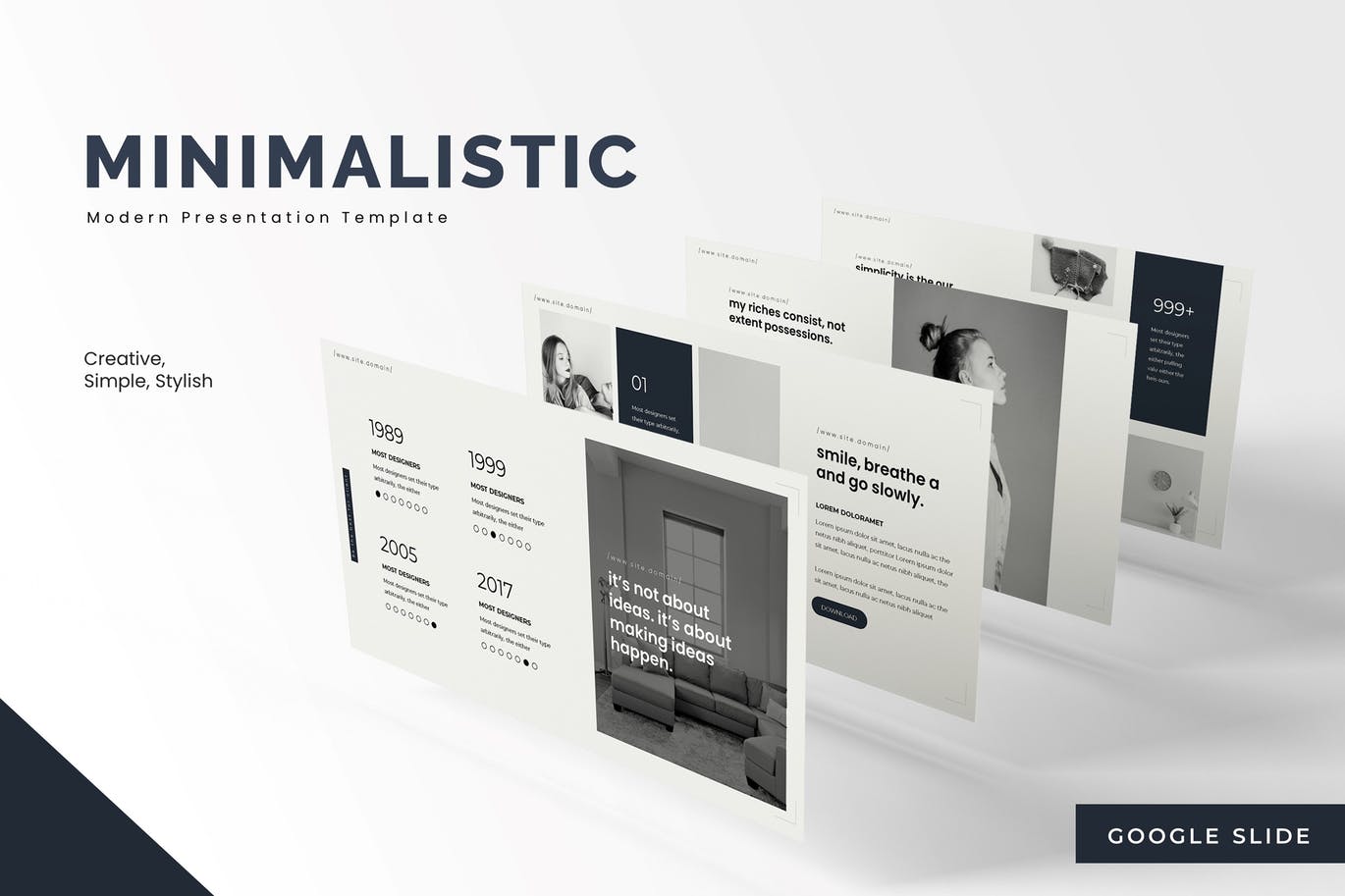 Take a look at this outstanding Google Slides template. It includes a number of color options to select from. You can also add your own images. The slides will not look crowded with unnecessary text and images. This template has a clean layout that lets you focus on the presentation at hand.
This template design helps you present your presentation in a modern and simplistic way. This design has a great number of editable graphical options that will keep your audience interested. Do you want to make your Google Slides look good? If yes, this is the template you should consider using.
Features:
There are 150+ slides in total, and 5 premade colors are available.
This slide contains handcrafted infographics.
All of the slides are based on Master Slides.
This template has pixel-perfect illustrations.
All of the visual elements are resizable and modifiable.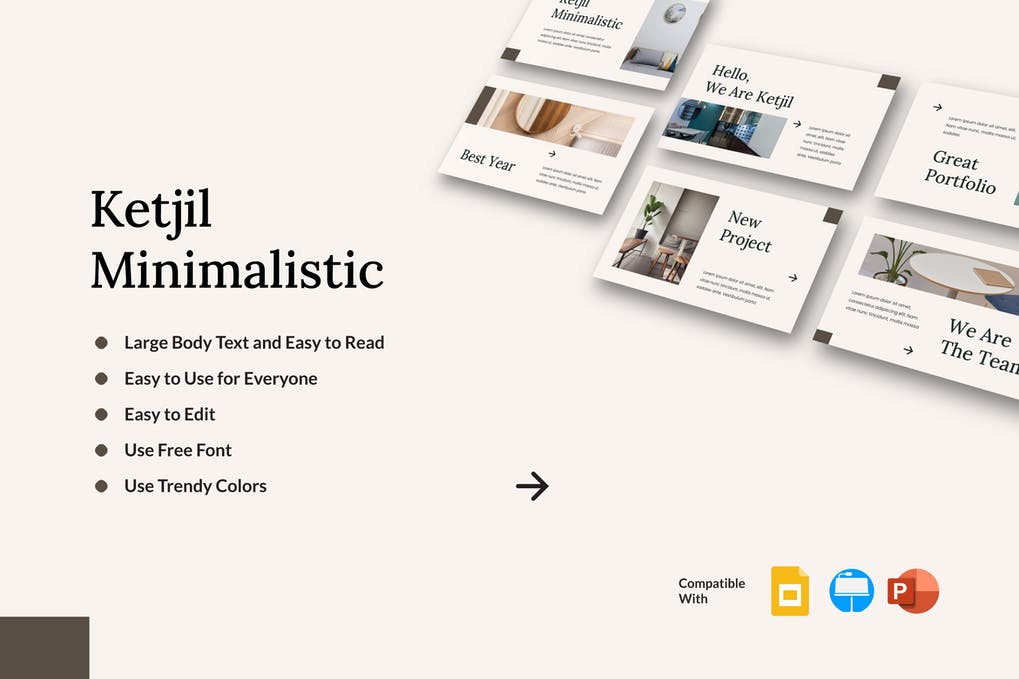 "Ketjil" is another top-class aesthetic Google Slides template. This template is well suitable for business purposes. It can be easily edited and has a neat, clean design that will definitely get you an impressive presentation. It includes 30 best PowerPoint, Keynote, and Google Slides presentations. It's quick to customize and use. It also comes in a variety of different colors. Colors are easy to change. If you want, you can easily change the text as well. This Template has a very contemporary appearance and is likely to persuade your audience.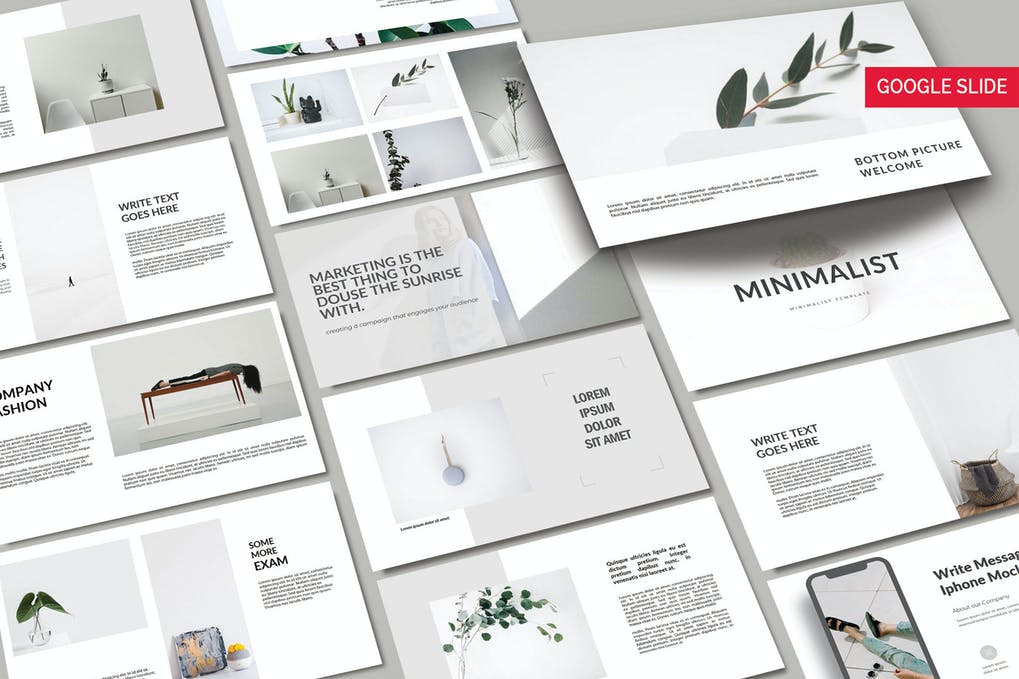 If you are looking for a fresh look business or corporate presentation then this slide layout is well suitable for you. Each company has its own distinct identity. As a consequence, this Google Slides presentation template design sends an identical message to your audience visually. Moreover, you can edit the slide layouts according to your need. This is a great Google Slides template to try out. This design is ideal for anybody who loves simple design.
Features:
This template has a total of 30+ slides.
The Aspect Ratio is 16:9.
It's simple to swap the picture.
Fully editable graphical items.
The presentation contains the best collection of icons.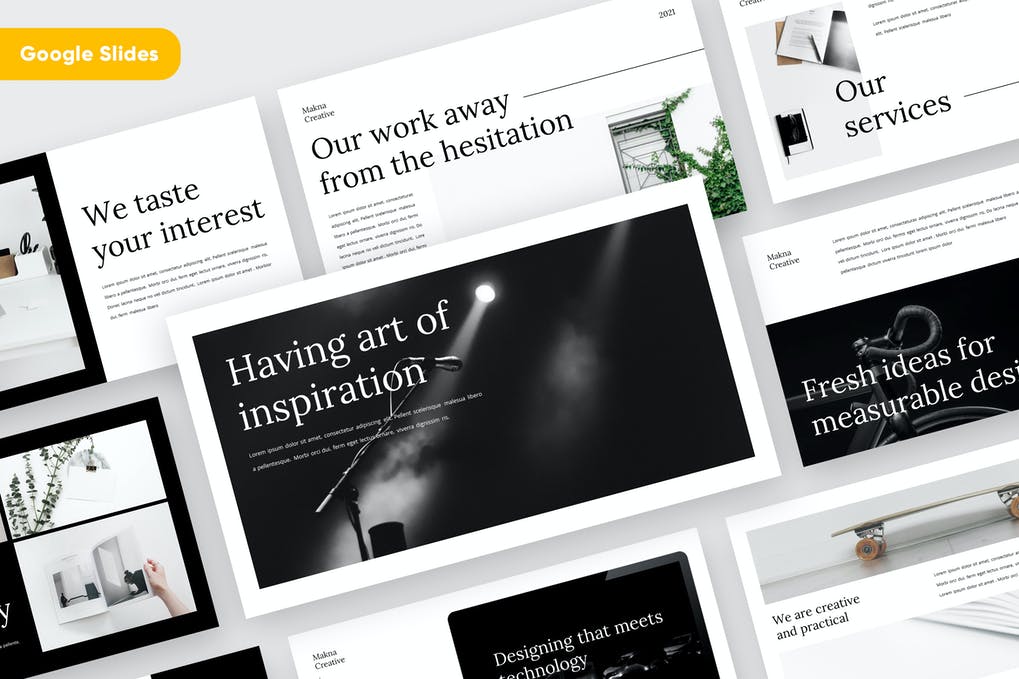 If you are searching for the best professional Google Slides template for multipurpose then this is the right one for you. With a clean and modern appearance, it will allow you to express your ideas in a unique manner. This design is great for your creative agency, branding, and portfolio presentation.
This template pack consists of attractive 30+ slide designs that will impress your audiences and allow you to present your concepts in a professional manner. All of the slides in this pack are created with Slide Master, so all you have to do is drag and drop to create your presentation. Make a good first impression on your audience with this easy-to-use Google Slides template design.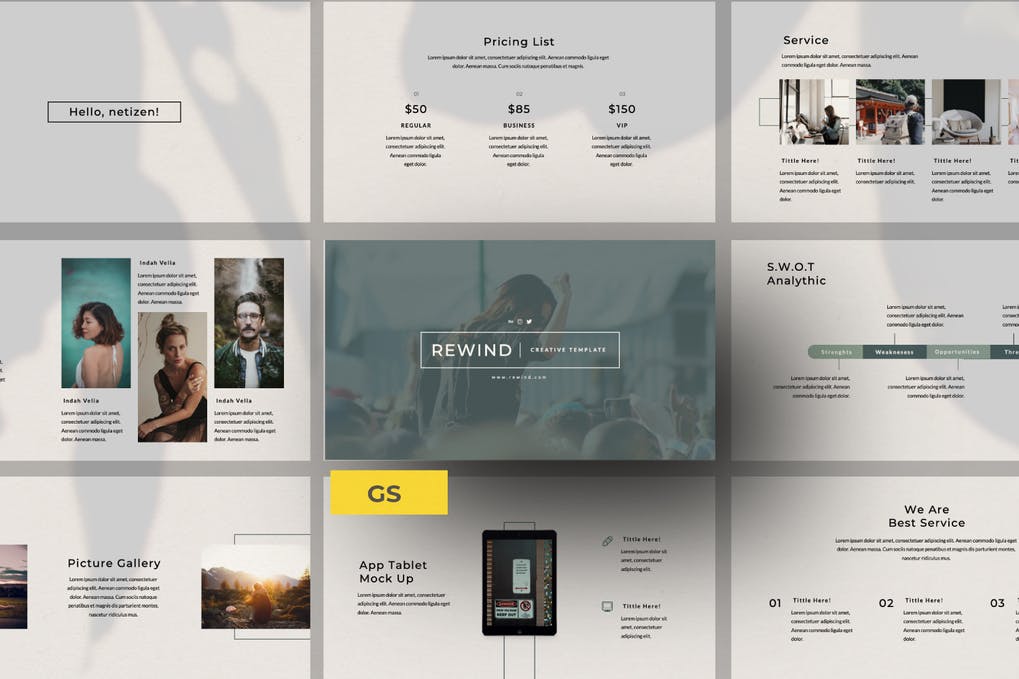 "Rewind" is a modern Google Slides presentation template with a basic design style. The colors are pleasant, yet simple. For branding yourself or your business, this will be a suitable choice. All the content and graphics can be easily edited to fit your needs. This template design is 100% designed and built by professionals, so you can be confident in your choice. It is also very user-friendly, so you can apply it to any type of business and service.
Features:
Image placeholder is available.
Excellent collection of theme colors.
Well-crafted typography and have great usability.
Based on Master Slides.
Media placeholders are available.
The colors are simple to change.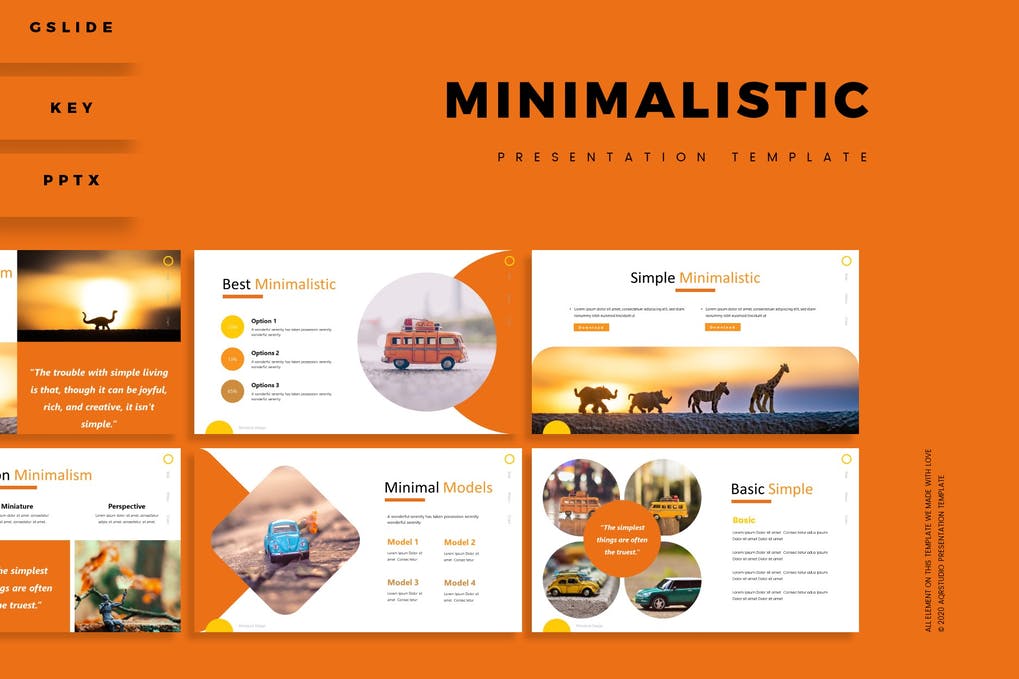 It's no longer acceptable to show an antiquated style presentation to the audience. It's time you change your presentation to catch up with the modern world. This simple look Google Slides theme is ideal for those looking for a clean design. The arrangement is visibly soothing to the view which makes it eye-catching. It will get the attention it deserves from your audience.
It features light colors that are easy on the eyes and create a fresh perspective for your presentation. You can easily use this Google Slides template for almost all business projects. It's simple yet flexible to use. With this template design, you can easily create an enchanting slide in just minutes.
Features:
Over 150 slides with 5 pre-designed color options.
Each template has 30 slides.
Handcrafted infographics are available for Google Slides, Keynote, PowerPoint.
The full designs are based on the Master Slides.
There is a wide range of illustrations are available.
Gallery and portfolio slides are added.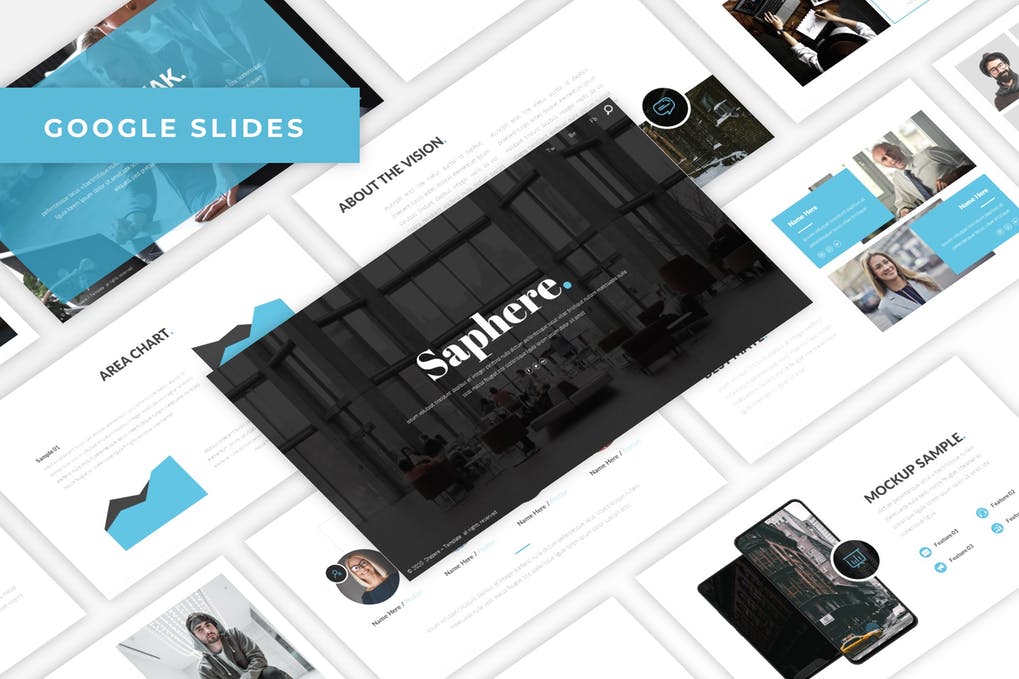 Do you require a professional-looking company profile Google Slides? Then this is the right one for you. It comes in minimal colors that give the presentation a professional look. The theme is clean and well-organized, which is great for showing your content. "Saphere" is a minimal design Google Slides theme. This Google Slide is used for multiple purposes such as creative agency, company profile, portfolio, and corporate.
Features:
It consists of 150 slides with the best-premade colors.
Slide designs are offered in a 16:9 aspect ratio.
The slides for this presentation are based on Master Slides.
To modify the presentation, simply drag and drop is enough.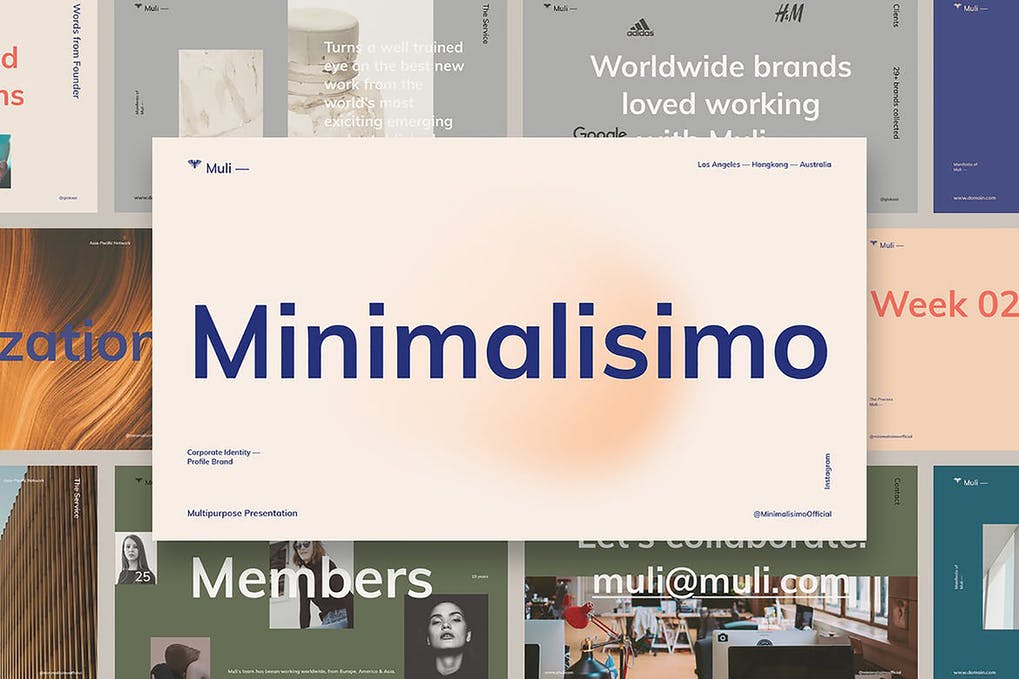 "Muli" creative Google Slides comes with exceptional 90 slides. It's a modern design that can be used in a variety of creative areas. In fact, it comes with a lot of handy features. It includes different color schemes, beautiful layouts with animations and transitions. When presenting in front of an audience, you should consider the design as well. Because displaying your content in a complicated manner will not attract interest from the crowd. Overall, this is the best simple design Google slides.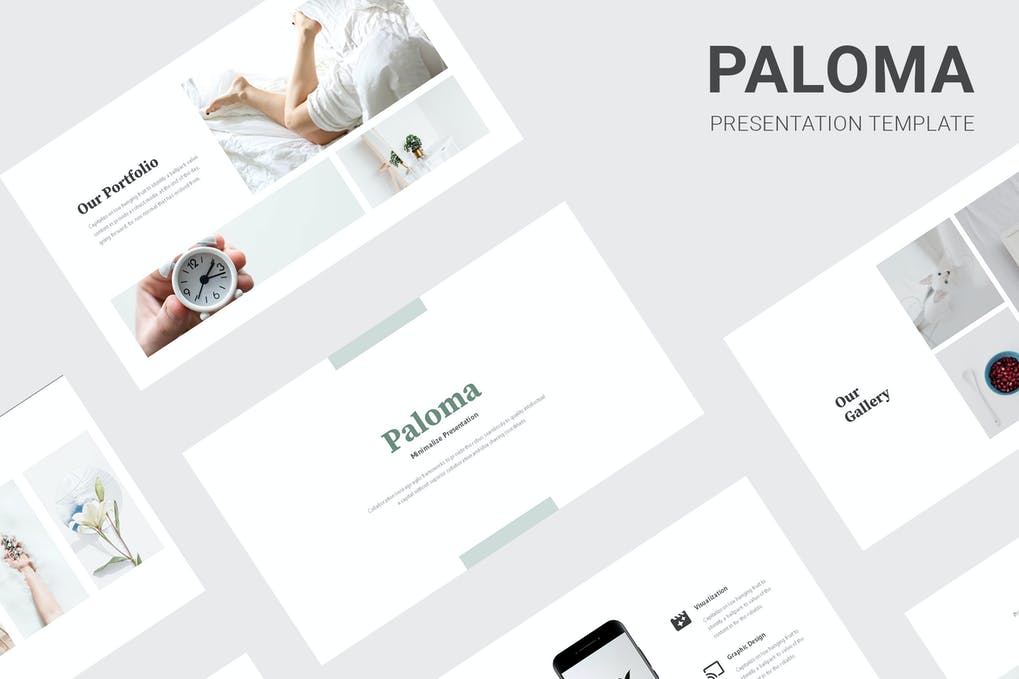 "Paloma" is an attractive Google Slides theme with a clean design and has various colors. Use this template to promote your business; it's simple to alter the typefaces, colors, and layout. It offers two color schemes: light and dark versions. You may also select the best option for you. "Paloma" is a great choice for people who like minimalism. If you want to create a clean and simple presentation, this one is for you. There is no need for additional software to style the presentation template.
Features:
There are a total of 60 presentation slides in the package.
The slide deck is available in two color versions (Dark and Light versions).
16:9 HD widescreen format.
All of the text can be editable.
The most comprehensive collection of graphical objects.
RGB color mode is available.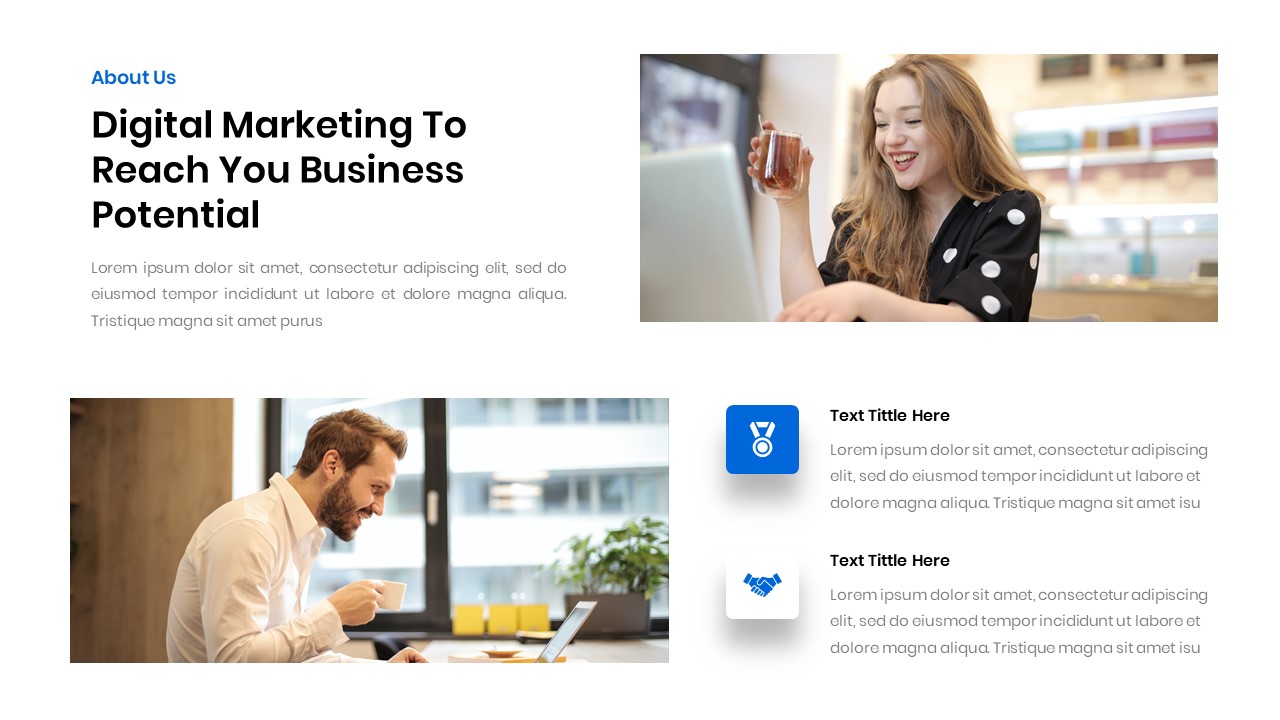 Every firm is using digital marketing in order to grow its business. "Digitalist" Google Slides is one of the most popular presentation templates, with a simple design. You can easily include your data in it. This Google Slides presentation template is perfect for you if you are a digital marketing specialist or a consultant. With a few simple steps, you can make your presentation more appealing and enthuse your audience.
This Google Slides for digital marketing is ideal for businesses of all sizes, as well as professionals who work for digital marketing companies, branding agencies, media, and publishing companies. Let's have a look at the features of this template.
Features:
36 attractive Google Slides.
It's simple to personalize all of the visual components.
A collection of fonts are available.
16:9 widescreen ratio.
Both files are included (PPTX and Google Slides).
A documentation file is included.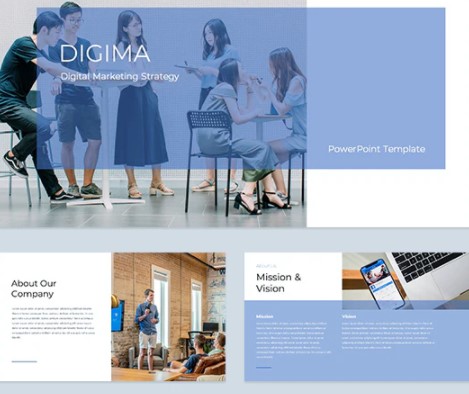 The "Digima" online marketing Google Slides template has a contemporary and stylish appearance that will definitely engage your audience quickly. This template uses a diverse of color combinations and the design elements look elegant. This template design comes with many features and users can easily customize based on their ideas.
This design is simple and refined, so it won't be tedious to the audience. This template focuses on digital marketing firms, internet marketing organizations, and other online marketing businesses. If you want to display your strategies in a cutting-edge manner, this template design is ideal for you. Try this stylish presentation and save a lot of time.
Features:
Total 31 Google Slides are available.
All the visual components are resizable.
Free web fonts are included.
All the slides are based on the Master Slides.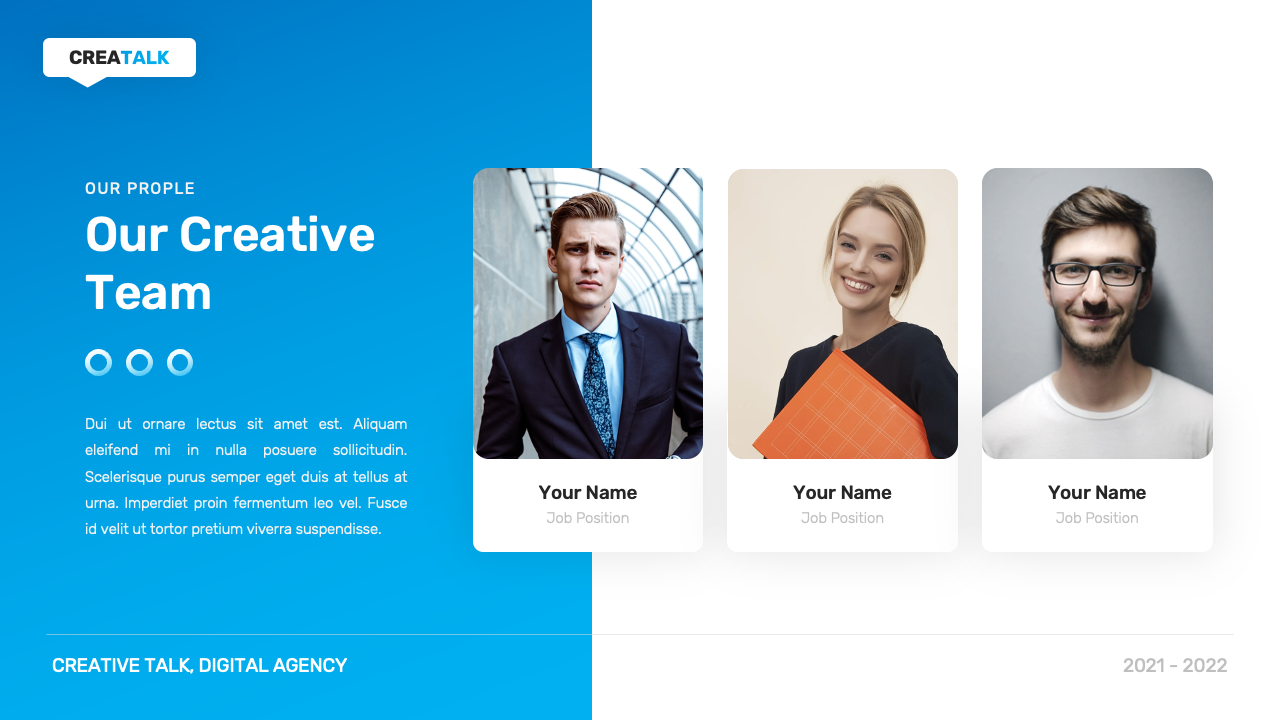 If you're doing internet marketing to promote your business or for personal clients, this premium digital marketing Google Slides template is a must-have. This Google Slides theme consists of interactive graphical elements with lots of features. You may easily implement digital marketing services such as SEO, SEM, social media, and other marketing initiatives with this template design. This template is suitable for a wide range of organizations and startups. Although it appears to be simple, it actually contains a wealth of useful data as well. Grab this template pack and you'll be saving time right away.
Features:
36 slides are required for the presentation.
Every aspect of the slide is simple to modify.
The design is completely based on Master Slides.
The picture placeholder is available.
Best free fonts collection.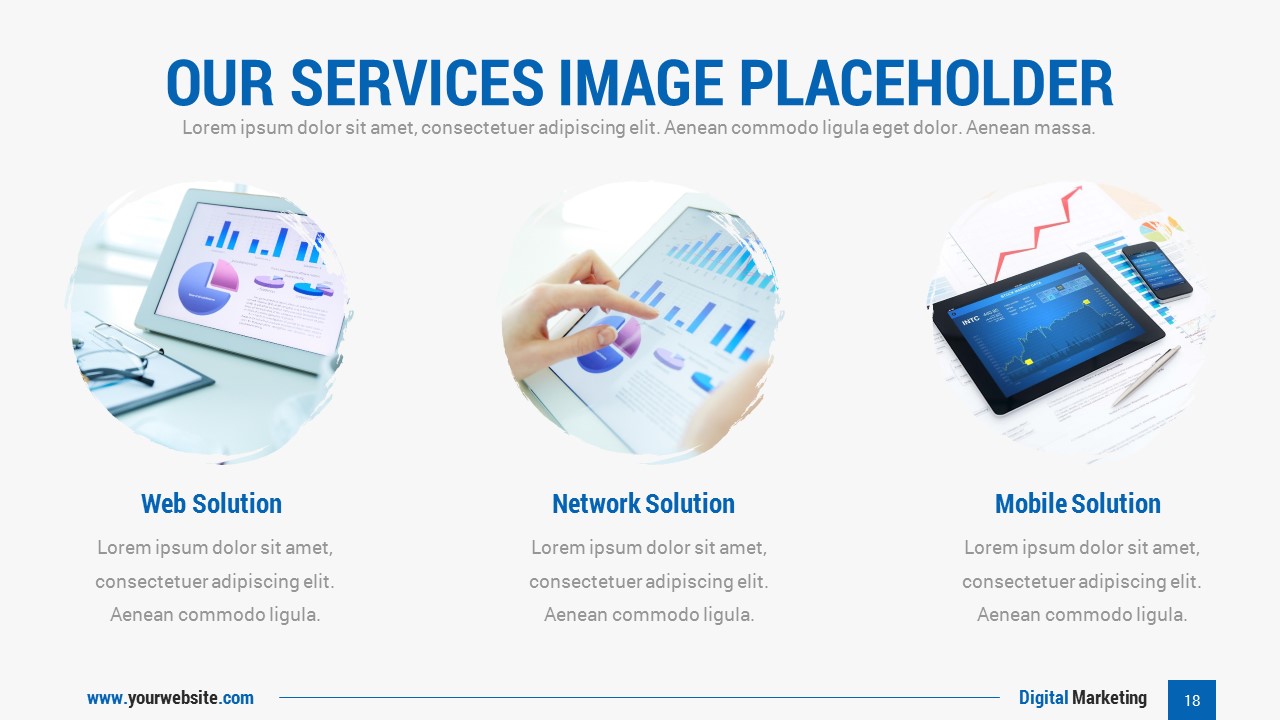 This internet marketing Google Slides design will help you take your company to the next level. Creating a marketing strategy from the bottom up is time-consuming and requires knowledge of design concepts. To avoid this, use this Google Slides. This slide design consists of several visual elements. The design is minimalistic, simple to use, and will help you convey your message quickly. So, elevate your business to the top level with this design.
Features:
HD 16:9 and 4:3 aspect ratios.
13 color schemes are added.
Total 160+ extraordinary slides.
This template design includes infographics, charts, graphs, etc.
There are free fonts available.
Animated slides are involved.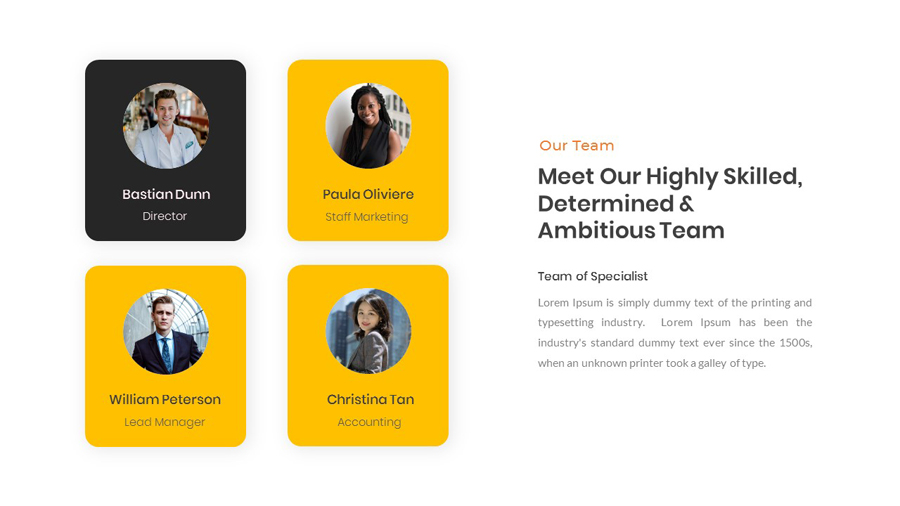 "Paramount" presentation is one of the best digital marketing proposal Google Slides template. Its color combination and design layout make it unique from other ordinary presentation designs. It can be utilized in a wide range of presentations, including company profiles, digital agency, management, and consultancy. Purchase this Google Slides to help you grow your company.
Features:
40 creative, modern presentation slides.
All the sections of the slides are easily editable.
Based on the Master Slides.
Google Slides and PPTX files included.
The documentation file is attached.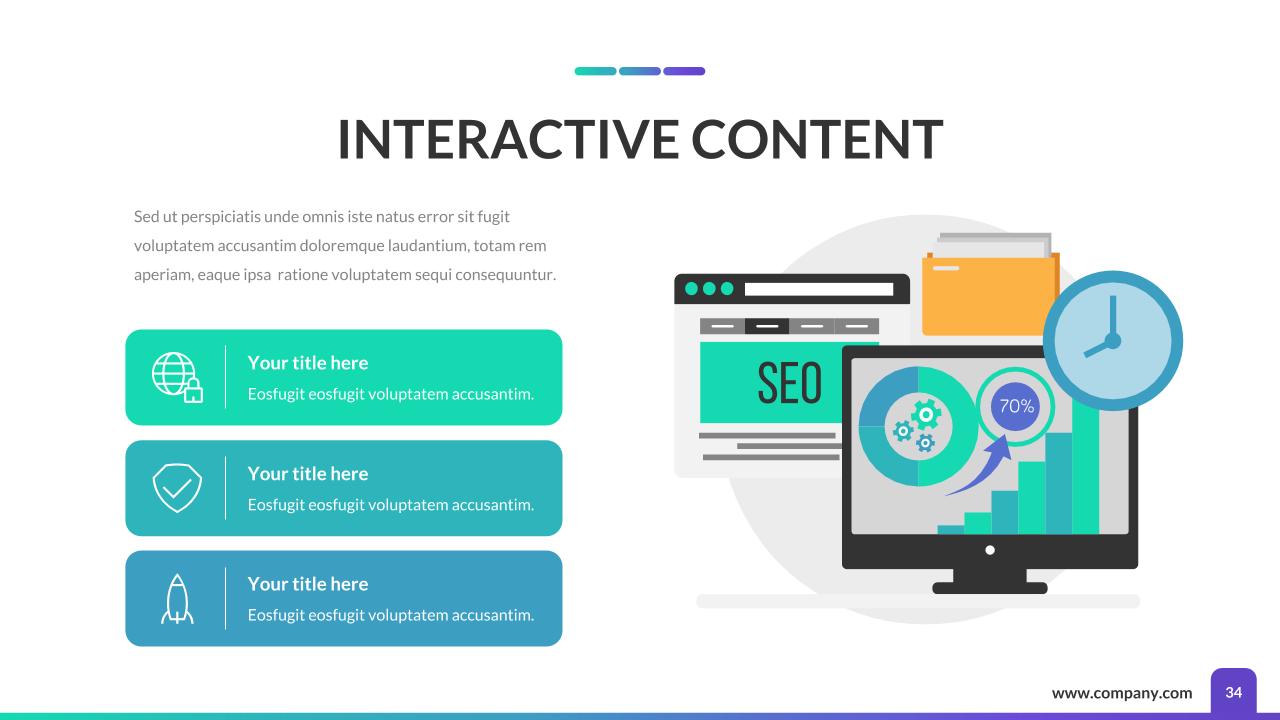 The use of SEO to boost organic traffic is one of the most important methods for getting those quality conversions. If you want to do SEO in a successful manner, this template is ideal for you. This entire SEO Google Slides layout was designed based on the guidelines to meet the requirements of an SEO strategy.
This template is based on a clean design, so that it does not have distracting elements. On top of that, the colors are used minimal, so they won't irritate you during presentations. This SEO slides template comes with a collection of visual elements and it's very flexible, so you will have no problems customizing the slide design. Let's look at the features in more detail.
Features:
100+ modern and creative slide designs.
Available in 3 color schemes with dark and light themes.
2 aspect ratios are providing 16:9 and 4:3.
The complete design is based on Master Slides.
A good collection of graphics.
All the portions of the slides are editable.
Online support is available.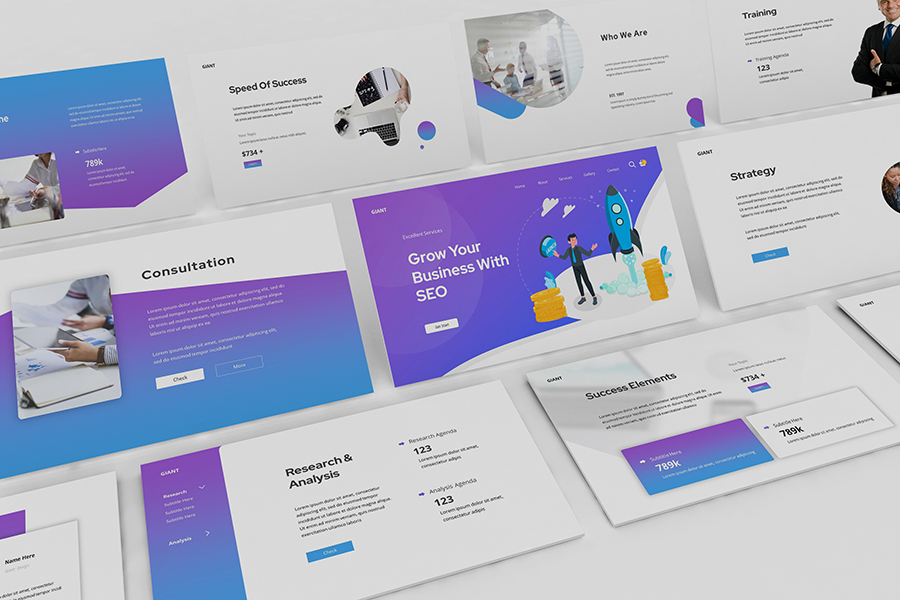 If you work in a digital agency or are doing SEO for your clients, this innovative SEO Google Slides presentation will be really beneficial to you. It's a fully customizable Google Slides, so you can easily change the designs if required. The trendy-looking design of this Google Slides presentation is both fresh and creative. It's a good choice if you want to display your SEO strategy in a simple yet eye catching style. This template displays your content clearly and systematically.
It's perfect for both consultants and freelancers who are offering SEO services to their clients. This template is very neat and clean because of the presentation style. There are many viusal diagrams in this template bundle which makes it the best Google Slides presentation for SEO. So, why are you still waiting? Take advantage of this professional SEO Google Slides to save time.
Features:
30+ minimal design presentation slides.
All the available slides are full HD.
The PDF file includes for preview.
All the design layouts are based on the Master Slides.
Documentation file included in this template pack.
Free updates are available.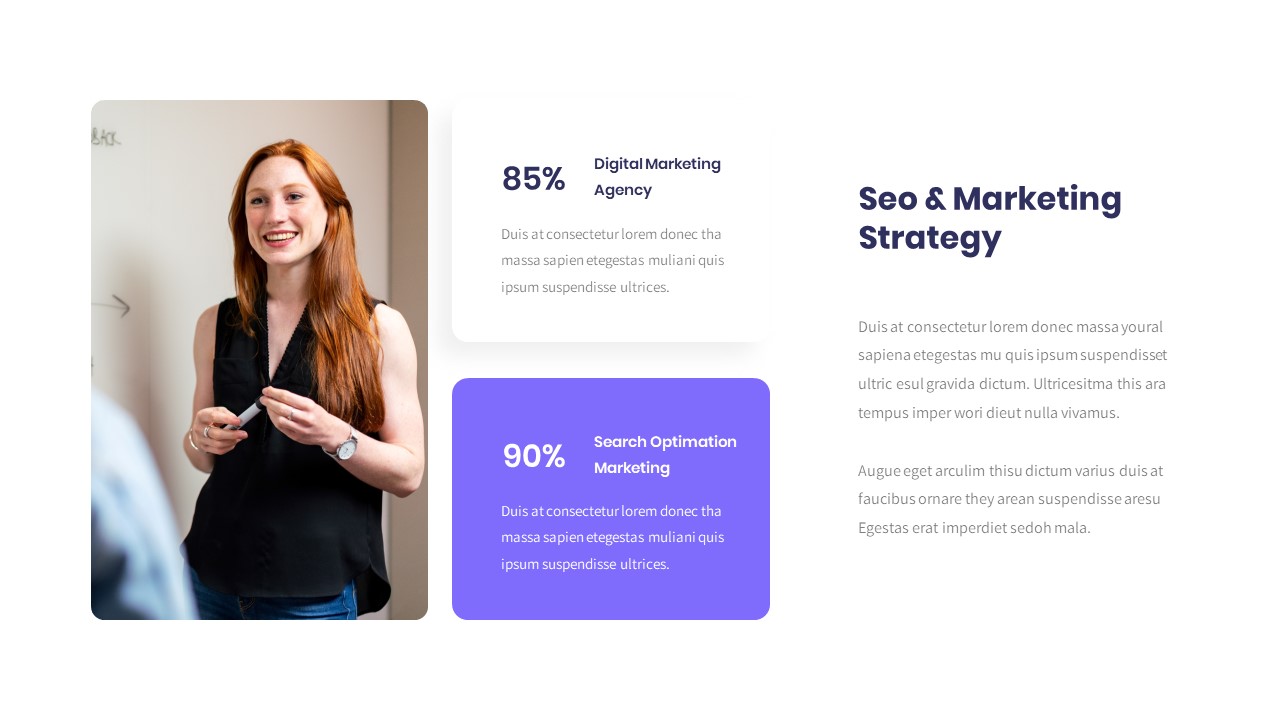 Introducing "Brandigital", one of the best modern SEO and Digital marketing Google Slides presentation. Each and every slide have a professional touch since these whole slides are made by creative designers. Get this template if you want to save your time; you don't want to receive support from other software. With this slide design, you can wow your audience.
Features:
There are a total of 38 modern-looking slides in this presentation.
The entire graphical components are modifiable.
There are some really amazing free web typefaces on here.
Wide screen, high-quality slides are available.
Google Slides, PowerPoint, and a documentation file are attached.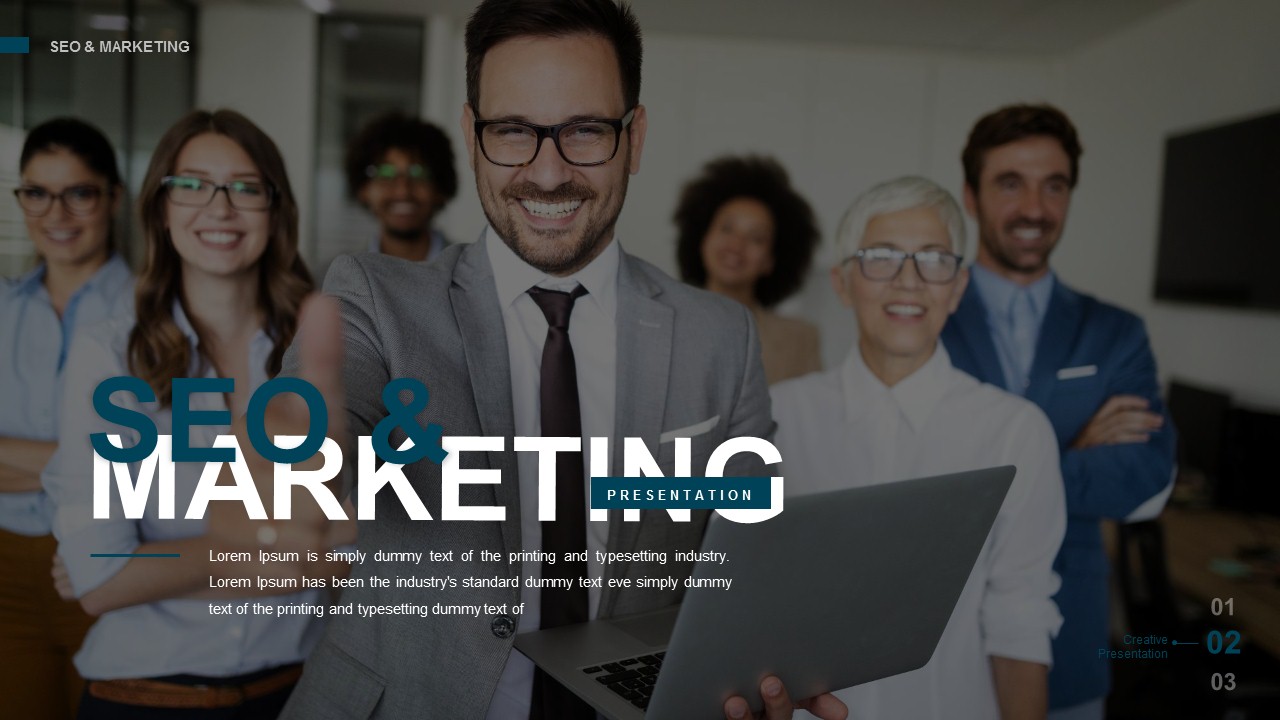 Another most popular SEO and Digital marketing template that is suitable for SEO and digital marketing services. This template bundle has a total of 30 slides. The overall color palette is a fresh look, which will lend a professional appearance. This is the ideal presentation template if you want to offer a great SEO or Digital marketing strategy to your customer.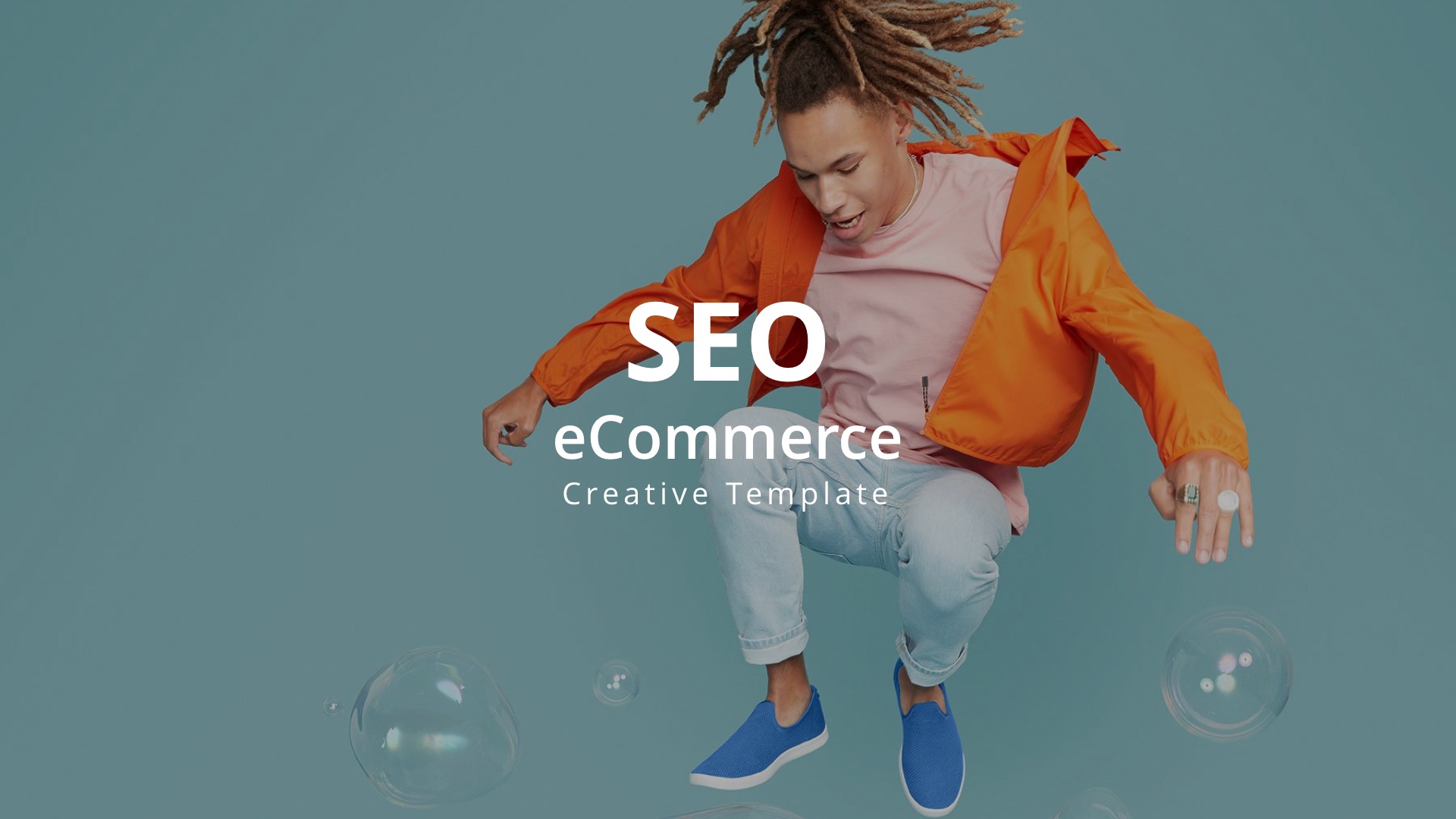 Are you doing SEO or Online marketing for e-commerce businesses? If yes, this Google Slides is the best choice. This template has excellent slide designs and a beautiful collection of color combinations. It enables you to modify anything you want based on your requirements. There is no need for any design talent, every requirement is always available. So, create your presentation with this elegant presentation design.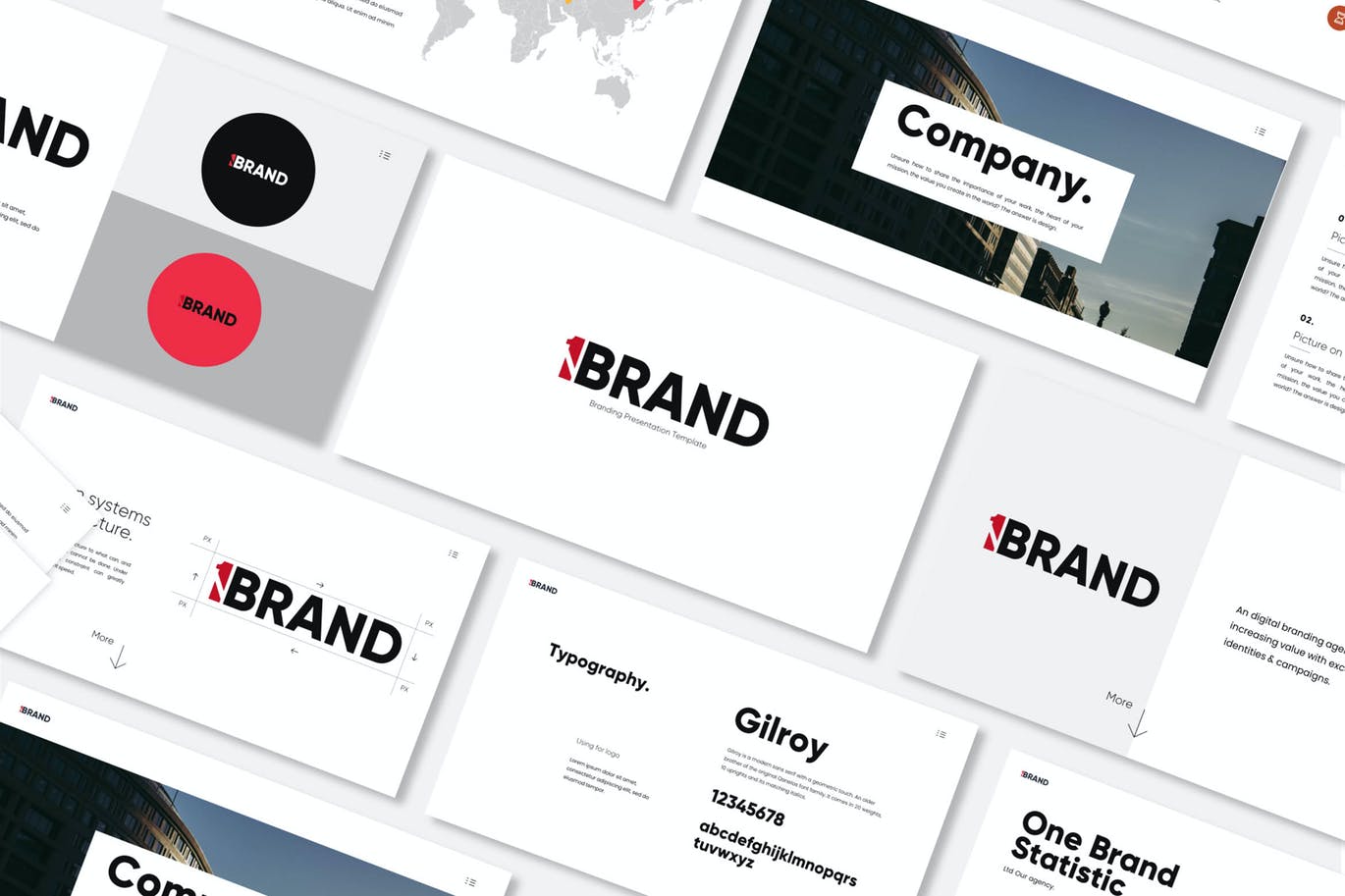 Every company must develop a strong brand identity. Your business's brand won't function properly without a suitable strategy. The way you brand yourself matters, whether it's a small or large business. Google Slides is a convenient platform for creating presentations with a modern look and feel.
This presentation template is specially crafted for branding and marketing. In general, complicated designs are not wanted for branding presentations. Typically, a branding presentation requires basic, straightforward designs. Impress your audience with this creative branding Google Slides Template.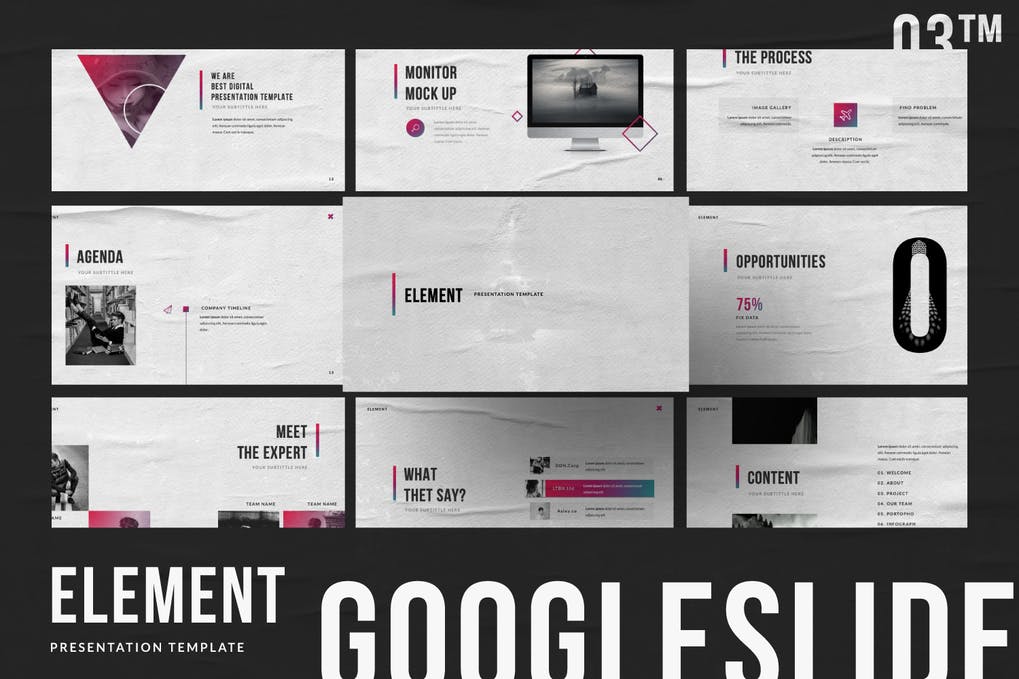 "Element" is a clean and elegant Google Slides for branding. This template design includes 50 creative slides, and each slide is given a professional touch. The template theme can be used by both agencies and individuals for any purpose including corporate, branding, advertising, and business. The design is fully customizable and can be easily edited. This Google Slides presentation template is a perfect choice for your complete branding.
Features:
Image placeholder.
Fully drag and drop method.
Best collection theme colors.
The typeface is attractive.
Media placeholder is available.
Very easy to change colors.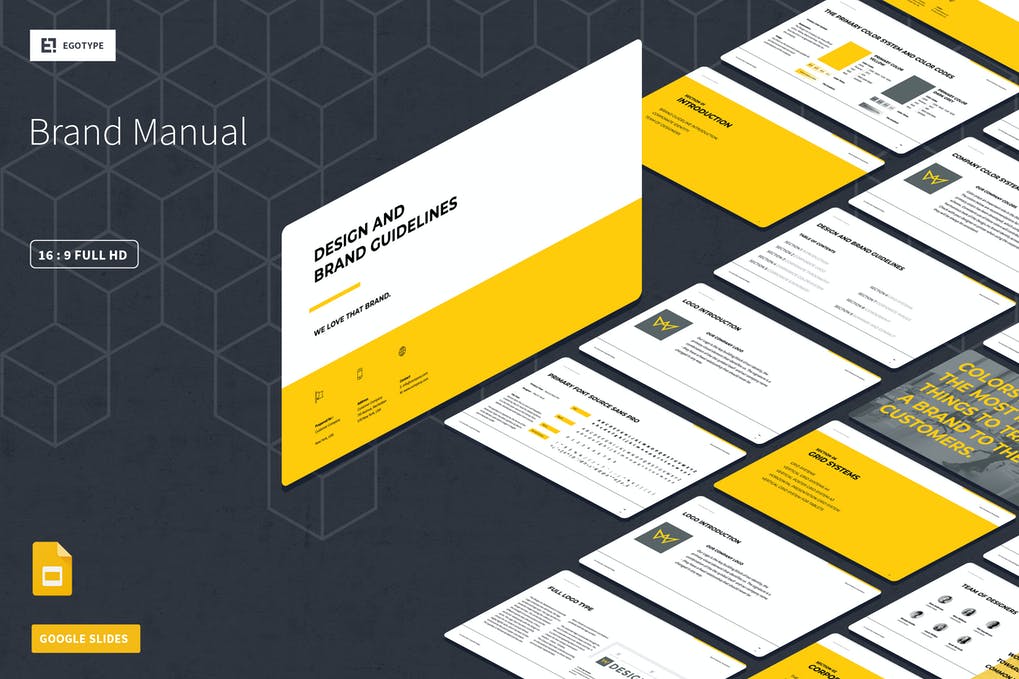 Brand manuals are documents that describe how a brand should be seen to the public. This Google Slides presentation is dedicated to creating brand manuals. Download this Google Slides template to save time on your own. The minimalistic design of the following Google Slides presentations is easily adaptable to company branding, marketing, and business presentations for professionals and agencies. It helps you excite your audience with this attractive design.
Features:
This presentation contains 40+ creative slides.
All the slides are in widescreen format and based on Slide Master.
For easy editing, vector graphics are included.
Editable text.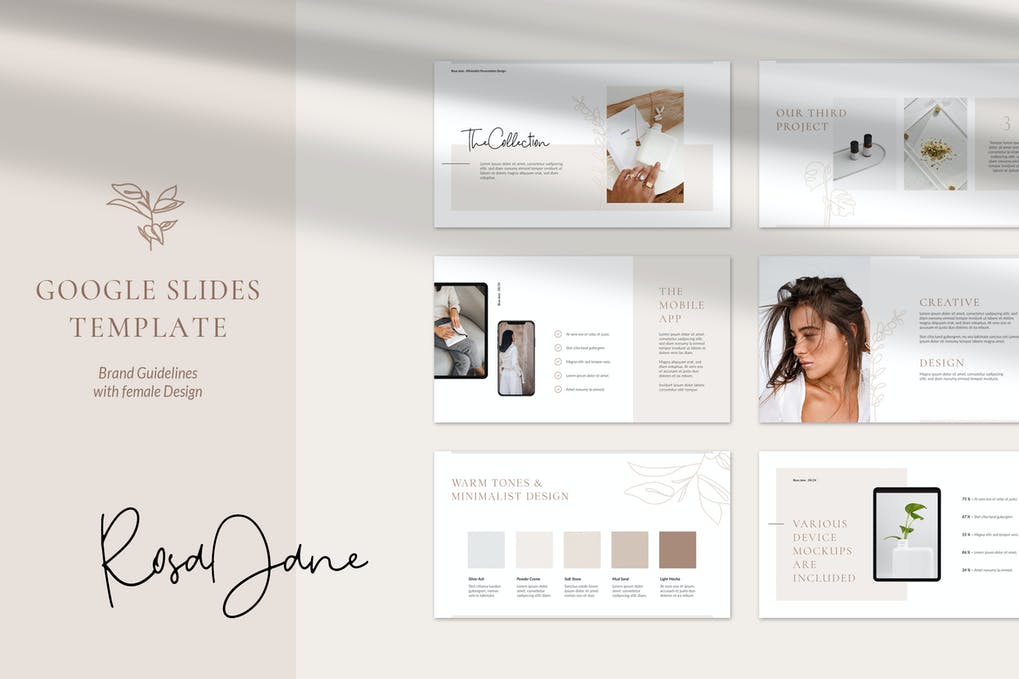 "Rosa Jane" is a minimal design Google Slides for product branding. This slide layout is designed with light colors and simple graphical elements. The font is also quite readable. This complete design was created by professional designers. This template layout can be easily modified with no need for significant design expertise. So, use this fantastic presentation template to showcase your products and develop a complete branding strategy.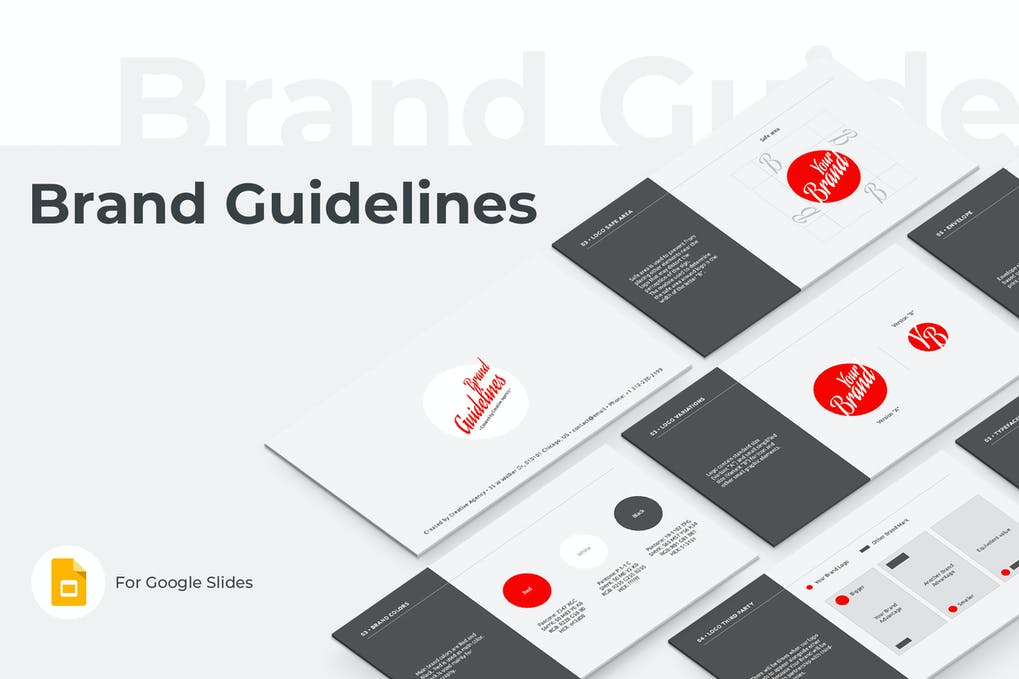 Get this elegant branding Google Slides templates for your business. It is designed with the concept of minimalism. The template background is very simple and the font styles are classy. It appears to be much more practical and tidy. You may use this Google Slides themes for any type of business presentation. The Google Slides presentation template has a variety of color combinations, so you may pick the one that works best for your presentation.
Conclusion
Minimalist Google Slides presentation themes are a great way to deliver your message to the audience. And these templates will help you do that without any complications and with a little bit of creativity. In the digital world, there are a number of free minimalist Google Slides presentations accessible, but they have limited features. If you want more features and attractive designs, a premium minimal design Google Slides is the way to go.
These templates are the best way to deliver your strategy through slides easily and without any complications. Always present in an organized and engaging manner when showing your presentation to the crowd. Design plays a big part in this. It will be beneficial to the presenter and the audience, too. If you don't want to use complex design, check out these simple design Google Slides presentation templates. Have a look at them if interested.
Have a look, if you are looking for the best collection of minimalist PowerPoint presentation templates.