Are you looking for the best webinar PPT slides to get your project off the ground?
If so, congratulations! You have stumbled upon a gold mine. Do you want to discover more about the webinar PowerPoint templates for a presentation? Here I have listed some of the finest collections of virtual event PowerPoint templates, and they are here just for you.
Every webinar PowerPoint template you will see below is available for instant download and includes free customer support, free updates, and unlimited usage. Professionals make these virtual event templates with many years of experience in the field, so you can be sure they will deliver good results. It does not matter what area your company operates in, it's highly likely that we have a webinar PPT that will fit your needs.
Nowadays, webinars are trendy. Businesses and educational institutions conduct meetings through this medium because of the ease with which remote audiences can participate; even if they lack experience or no time to make a presentation from scratch, these templates will definitely help you for your online meeting, class meeting, etc., no matter where participants are situated.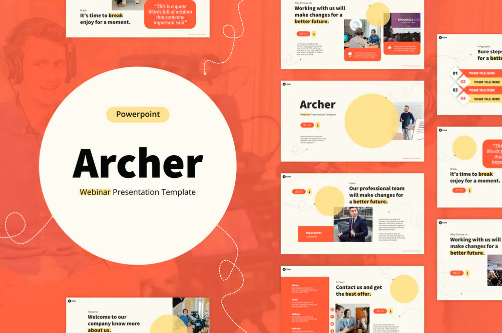 If you're thinking of hosting a webinar, this professional-looking slides deck is an excellent starting point. These trendy slides are incredibly well structured and straightforward to manage with each slide being user editable so that they can be tailored perfectly for your audience's needs without any hassle or confusion on their part.
Features:
It has 35 unique presentation slides.
16:9 The aspect ratio of a slide.
Readily editable charts.
Timelines that are well designed.
Multilingual free fonts are available.
This is appropriate to Master Slides.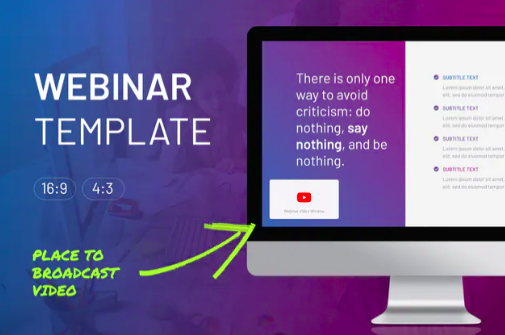 If you're searching for a good webinar slide deck, this PowerPoint design is ideal for you. This template includes established colors and customizable elements that are easily editable. If you want a minimal design, this template may be used.
Features:
There are over 30 unique slide templates available.
Choose from 5 pre-made colors.
PPTX files contained.
The template is simple to customize.
Retina ready.
16:9 aspect ratio.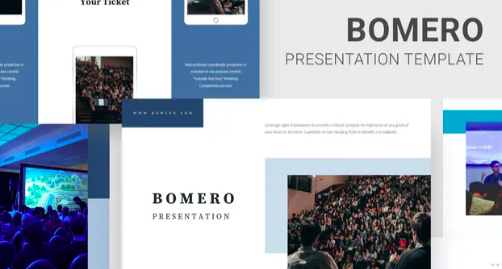 The design also plays a significant role in any presentation. "Bomero" is one of the most awesome webinar event PPT templates, with stunning design slides and various features. With these presentation slides you can create a presentation design easily.
Features:
There are 60 presentation slides.
Thirty extraordinary editable presentation slide designs.
Two-color variations (Light and Dark).
16:9 HD widescreen slide format.
No need for other image editing software.
Drag and drop images.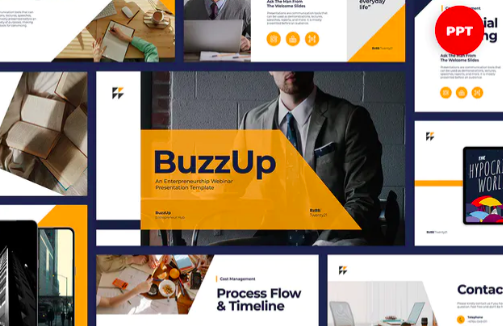 This business entrepreneurship webinar PowerPoint template is for those who are managing a company or team. It contains many beautifully designed slides that can be very easy to edit for your needs. Also, this webinar template is excellent for launching a new product or covering an important topic.
Features:
There are a total of 30 PowerPoint slides in this presentation.
Graphics can be completely customizable.
All of the designs are based on the Master Slides.
Just drag and drop is enough to design your slides.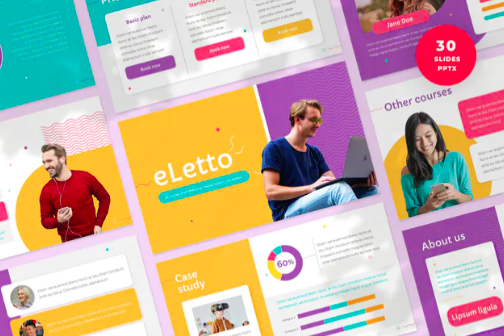 This Microsoft PowerPoint presentation is a modern and colorful presentation that can be used to display all of your online courses or e-courses. It also includes many beautifully designed slides that may be easily modified and tailored for various business needs. "eLetto" PowerPoint template was developed specifically for e-learning and webinar presentations. This sophisticated PowerPoint lets you creatively present your ideas with an emphasis on the educational discipline.
Features:
30 PowerPoint Slides incorporated.
All of the visuals are completely editable.
Free web fonts are available.
Based on Master Slides.
16:9 Widescreen Ratio.
If you're in need of some presentation templates for marketing, then take a look at this collection of marketing PowerPoint templates.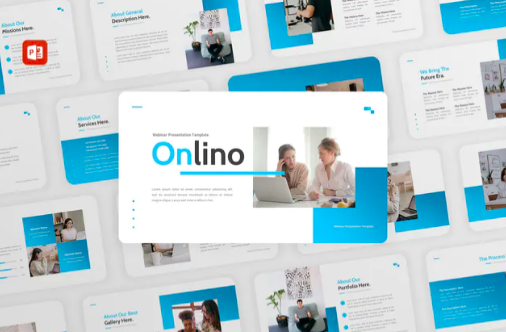 "Onlino" is a well-designed PowerPoint template for a modern webinar business. The design of the slides is elegant and simple, allowing your company's data to be present in an organized fashion. These webinar PPT files may used for various corporate purposes. Use this template to motivate your staff.
Features:
These slides are creative, clean, simple also; those slides are multipurpose.
The display resolution is also very good with an aspect ratio of 16:9. These are completely HD slides(1920 x 1080 pixels).
Set the image with the slide master.
It is not necessary for the help of other image editors.
Each piece of content is entirely editable.
The files contains .PPTX & .PPT PowerPoint files.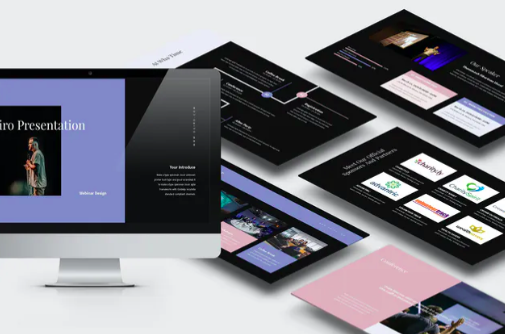 Webinars, meetings, conferences are the necessary thing in every business. Through online meetings can easily manage your team effortlessly. Explaining the whole information or strategies to the crew might be pretty manageable for the team leaders; however, sometimes they struggle to design a complete PowerPoint presentation. This seminar PowerPoint slides will be a perfect solution to design an entire PPT slide. This "Ogiro" online meeting PPT template has clean slide designs with a fully editable option. Also, it comes with two color themes variation. Try these PPT slides to save your precious time.
Features:
This template pack includes 100 presentation slides.
Unique editable presentation slides.
Two-color theme options.
16:9 HD widescreen slide format.
RGB color mode.
Fully drag and drop is enough to customize.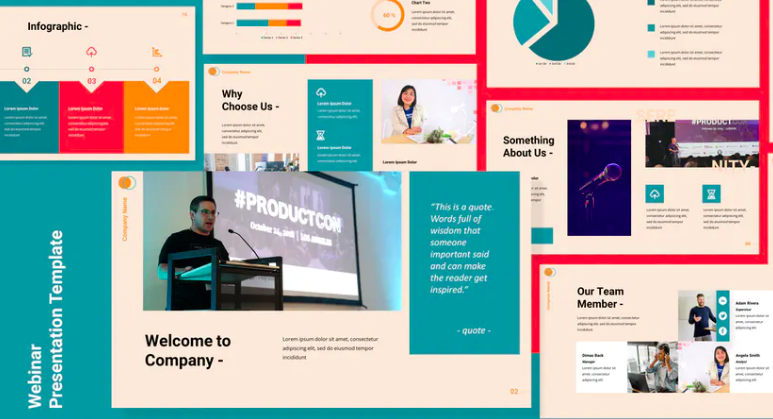 This stylish, professional webinar PPT template is completely designed for those are planning to present like a PRO. Each slide is crafted by professional designers; hence the design part of this template is absolutely stunning. Every single element of this template is fully editable, and you can customize it based on your purpose. If you are trying to interact with your audiences, then get this stunning PPT design.
Features:
This PPT pack includes 30+ unique slides.
16:9 slide aspect ratio.
This template has fantastic photo galleries.
Charts are simple to modify.
A collection of creative infographics.
Very attractive timelines.
Multilingual free fonts.
Based on Master Slides.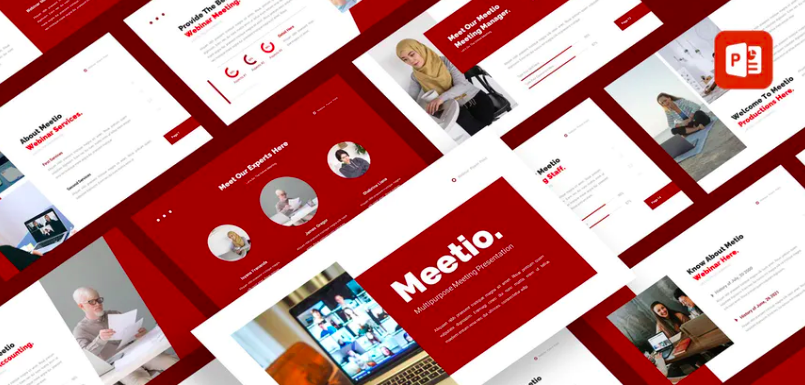 The "Meetio" webinar meeting PowerPoint template is one of the best choices for those who want to have a clean and simple design. This type of presentation can be used in various ways because it has slides with an elegant look that will match your brand image well. It has a design that focuses on the content of each slide to keep your webinar meeting interesting for those attending it.
Features:
Clean and adaptive multipurpose slides.
Place the image with slide master.
You don't want to rely on other editing software.
All the texts are fully editable.
Complete charts and graphs are fully editable.
Both.PPTX and. PPT PowerPoint files are included.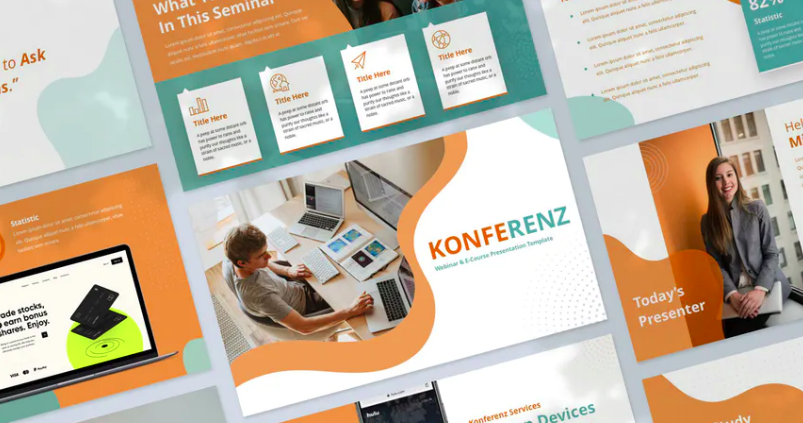 "Konferenz" is a presentation that can help you make an impression. It has 46 brightly-colored slides, and they come with different options, so it's easy to customize your own design! The central focus of this slideshow is companies working in the online industry, digital education facilities, or Ecourse companies.
Features:
40+ clean PowerPoint slide designs.
All graphical elements are completely editable.
Free web fonts are available.
All designs are based on the Master Slides.
16:9 Widescreen ratio.
Have a look at this finest collection of business PowerPoint presentation templates to strengthen your business.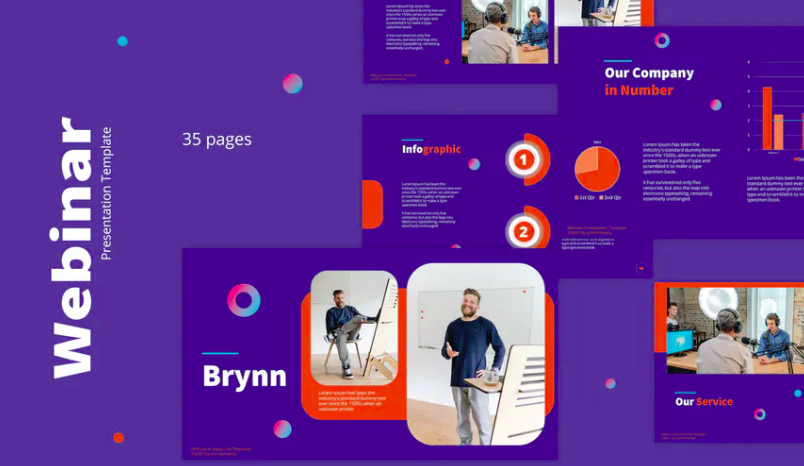 Thirty-five different slides, easily editable charts, creative infographics, nice-looking timelines, and multilingual free fonts are just a few of the features in this expert design webinar presentation. It's a perfect choice for trainers, consultants, managers, and coaches who need to create virtual presentations on topics associated with education and more. Also, this webinar template has a lot of flexible features that will help you change.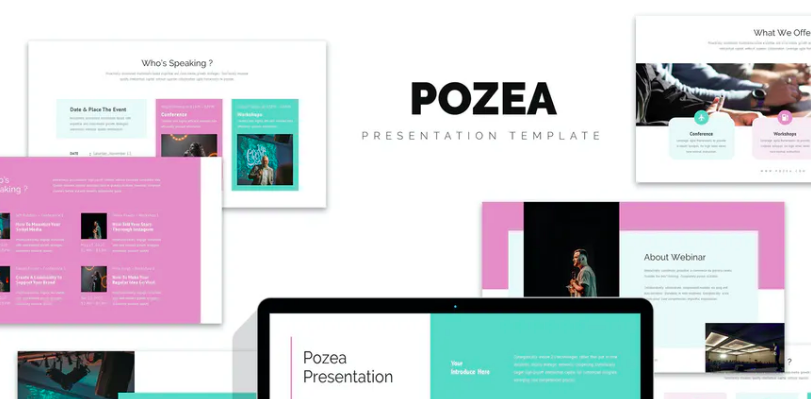 This PowerPoint presentation is a powerful tool for business presentations. This professional PPT template is perfectly fit for gaining users' attention and capturing their interest. It features a clean design and also includes easy-to-use slides with editable content. The template offers plenty of space to convey important information about your subject without overwhelming viewers. It also contains several graphics, charts, and icons, etc.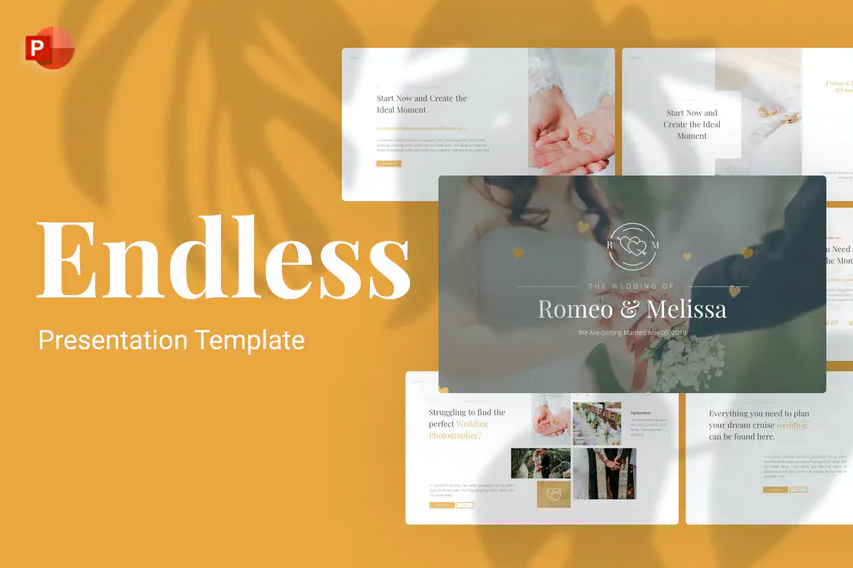 An "Endless" PowerPoint template is a beautiful, minimalist PowerPoint theme. It's ideal for personal, commercial, or organizational usage. It's exceptionally adaptable and simple to modify: you may alter the graphical components and content with relative ease. This PPT presentation has a vast color palette available as well.
Features:
60+ collection of unique presentation slides.
It provides light and dark versions.
XML files included.
Unlimited color options.
Well-designed infographics.
Fully customizable graphical objects.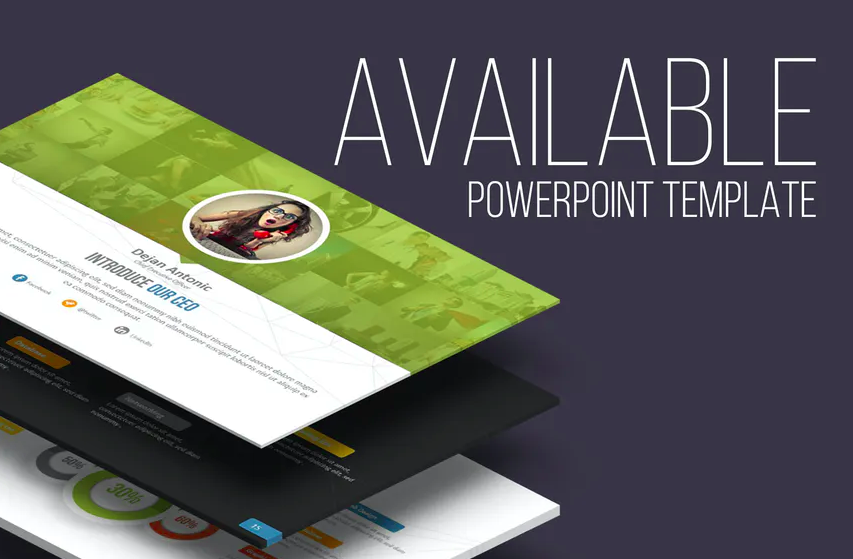 If you don't have time or design skills, you might want to invest in a premium webinar slide deck. This template will offer a lot of advantages and is simple to manage. You don't want to be reliant on external software to modify your presentation. Get this PPT slide now and make your presentation more exciting and professional.
Features:
Forty multipurpose slides with a creative and simple design.
Fully animated and non-animated 10 PPTX Files included.
The aspect ratio 16:9.
It contains 42 layouts with light and dark versions.
Infographics that are entirely handmade.
Section breaks slides.
The slides are all high-definition.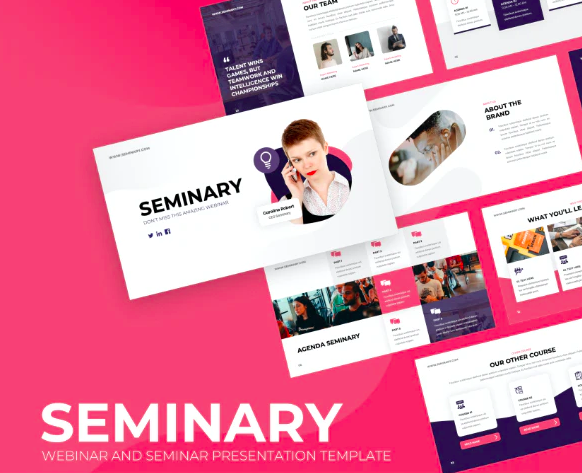 "Seminary" PowerPoint presentations are cutting-edge and include unique features. Every aspect of this slide has been created with care and attention. This presentation template is a multipurpose PPT slide design that may used for a variety of presentations, such as business, portfolio, production, marketing, and so on. Forget about the whole process and save time. All you have to do is follow a few simple steps, and you'll be good to go. So why are you waiting for it? Grab it now and excite your colleagues.
Features:
There are a total of 36 creative slides included.
The entire graphics are customizable.
A collection of free web fonts.
Only a few minutes is enough to make the whole presentation.
There are two types of files included.PPTX and. PPT File.
A simple documentation file.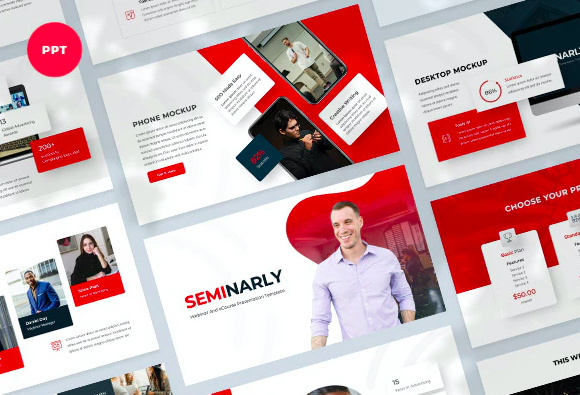 Please take a peek at this elegant PPT template design and consider it is a complete solution for online education, webinars, e-courses, and virtual business meetings. This template will let you quickly organize a meeting or demonstrate the data attractively to your crew if you use it. Try this template design out to save a lot of time.
Features:
30+ PPT slides.
The complete graphical objects are easily editable.
All the slides are based on the Master Slides.
Two types of presentation files are included (.PPTX and . PPT).
This entire company meeting PPT template is ideal for meetings, as it impresses your bosses, investors, team members, and others. This clean webinar PPT template features beautiful slides created by expert designers. This one is well appropriate for commercial, corporate, and personal usage.
Features:
This PPT template pack consists of 400+ slides.
Templates contain numerous master layouts that should be used for each template.
Four color schemes are included in this package.
Elegant transition and many more features.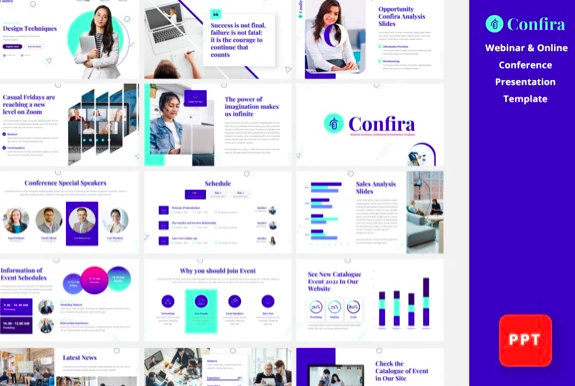 This PowerPoint theme may assist you in developing an innovative business strategy or concept if you need to present one. "Confira" is a versatile PowerPoint template with several unique characteristics. You can make outstanding presentations using this PowerPoint bundle, according to your preferences.
For webinars, virtual events, conferences, and seminars, this presentation template is highly recommended. It has the ability to make your event or conference stand out. You can also use it for your personal needs.
Features:
A collection of 40+ modern slides.
A PDF documentation.
It doesn't need additional skills; it's very useful to use.
Professionally designed Presentation slides.
Based on Master Slides.
Fully editable charts and graphs.
Unique mockup devices and predefined text styles.
They included world maps.
A great collection of colors and very few clicks to change.
All the slides are full HD.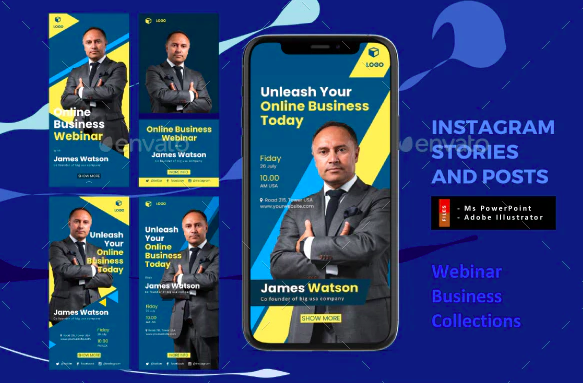 This Instagram story type is a fantastic method for commercial advertising. These online business PowerPoint presentation templates are ideal for product presentation, business, marketing, promotion, and corporate presentation. These slide designs are fully customizable with Adobe Illustrator and MS PowerPoint. You can create your own concept using the numerous color possibilities available. Engage with your audience by obtaining this template design.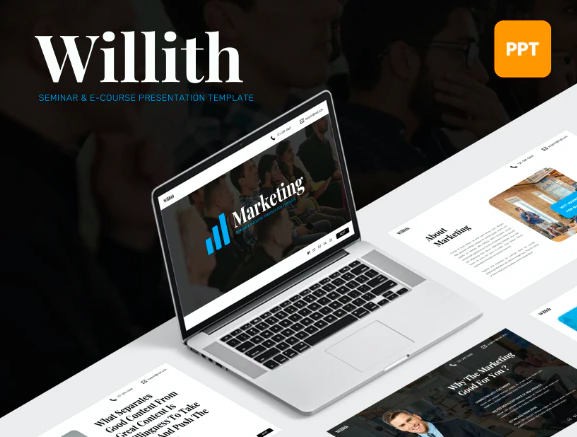 "Wilith" is one of the best PPT templates for online courses. The creative and professional design makes your presentation stand out. All the slides are designed by an expert PowerPoint designer and based on Master Slide design; they can be used for any kind of presentation.
If you are planning to host webinars, virtual seminars, online courses, this template will be one of your best choices. It has all the features that you need to present live sessions using PowerPoint presentations. This webinar theme is clean and professional, which makes it easier to convey your message effectively without losing the quality.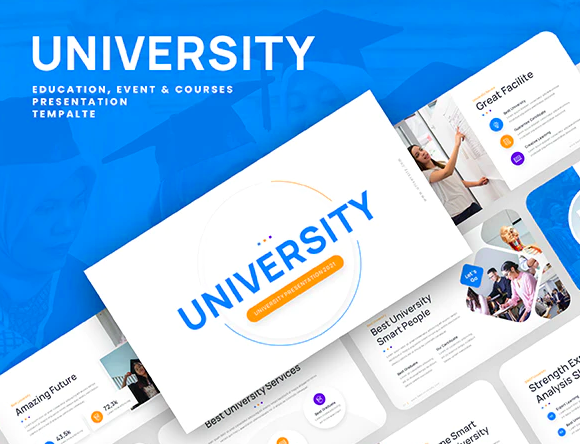 Do you work in the education sector? Do you have any intentions of offering an online course, running a seminar for university or college students, or else organizing an online course? You've arrived at your destination. This modern PPT slide design is primarily intended for educational use also allows for total customization. It's designed in conformity with the latest trends in online education. The template is also an ideal fit for information technology seminars, workshops, webinars, and conferences. From now on, you can impress your audience with this brilliant design.
Features:
There are 40+ slides in total, each with its own unique design.
You can modify any of the image elements with ease.
Based on Master Slides.
The screen ratio is 16:9.
Two distinct file types are included in the package. (.PPTX and .PPT)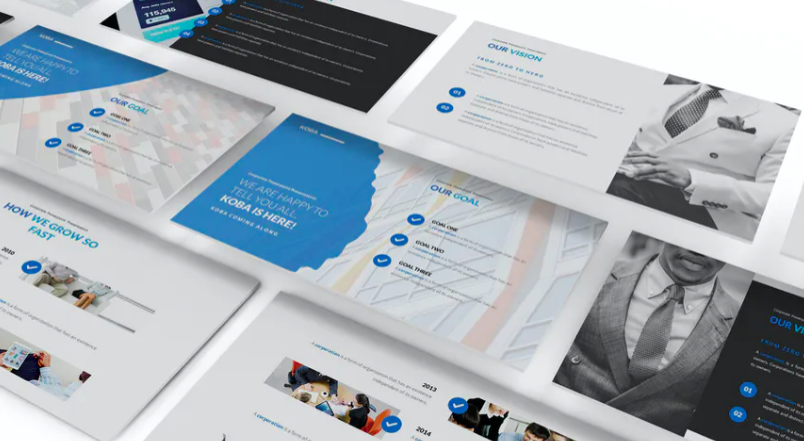 "Koba's" professional slides are designed to help you bring your business presentation into a new style. "Koba" has all you need for a unique deck with 100+ distinct and customizable slide designs, graphs, charts, tables, and diagrams. This PPT template helps you to create a professional-looking business conference presentation in a stylish way that ensures your content is presented in the best possible way.
Don't spend too much time creating a PowerPoint presentation; simply download this excellent template and use the rest of your time to prepare your speech.
Features:
100+ creative presentation slides.
All the PPT slides are retina and HD.
Two variations of files were included (PPT and PPTX).
The slides, which have two aspect ratios (16:9 and widescreen).
All the presentation layouts are based on Master Slides.
Creative infographics.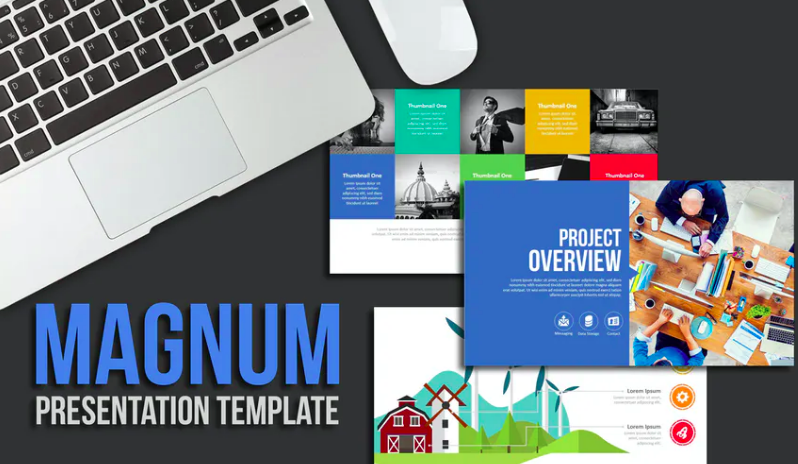 "Magnum" PPT slides are created by experienced professional designers. Do you need to make your presentation more interesting? Then this PowerPoint slide design will be the best choice! The various color schemes and other lots of features definitely give you customizable options; try out this unique PPT template package for maximum productivity.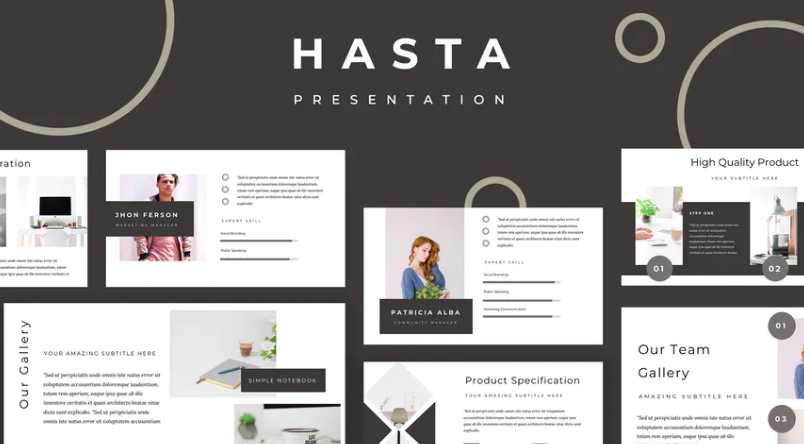 "Hasta" is a PowerPoint presentation that may be used to display your portfolio and concepts in a professional manner. This is the ideal business portfolio presentation for anybody wanting to show off their innovative concept or project. This presentation has engaging and straightforward content slides. There are no required third-party applications. It's also fully editable, with all forms being resizable without loss in quality.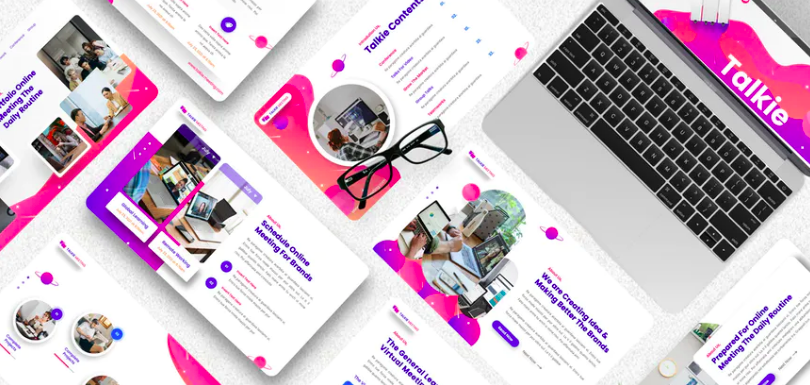 This sleek, modern presentation is both attractive and charming. This professional online meeting PowerPoint template will build trust with your online audience. It's easy to download and simple to customize. This wonderful online PPT presentation template has professional design slides suitable for any type of modern business. The simple and stylish background layout makes this template perfect for any online or virtual webinar. Check out the online meeting PowerPoint template now.
Conclusion
One of the best things about conducting online webinars is that you can easily connect with your entire audience in a single window; also no need to yell over everyone. With the help of webinar PowerPoint templates, you can make your content visually appealing and interactive. That is why it's really important to use eye-catching PPT templates for better results. This would not only help you grab attention but also increase productivity.
There are several free webinar PowerPoint presentation templates accessible, but they only contain basic features. If you wish to use more advanced features, go with a premium webinar PPT template; otherwise, utilize the free one. So, choose the right one for you. The following slides are one of the best PowerPoint presentation themes for webinars.